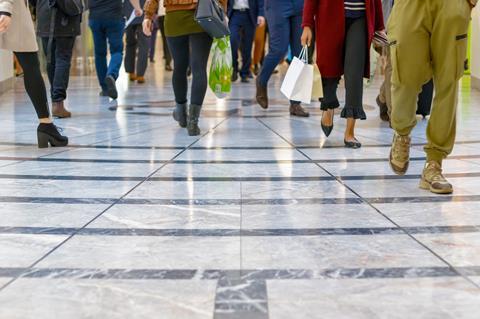 Top story
Expectations for the economic performance of the UK have increased sharply as consumer confidence begins to improve, according to the monthly consider confidence index from GfK.
The overall index score remains in negative territory for December, though it has increased three points to –11 for the month.
Most notably expectations for the general economic situation over the next 12 months have increased seven points to -27; which is now 11 points higher than December 2018.
Joe Staton, Client Strategy Director at GfK, says: "There's a clear sense of a change in consumer sentiment this month. The picture for the year to come is much stronger with a two-point improvement in how consumers view their personal financial prospects and a very healthy seven-point jump on how they see the wider economy next year.
"We haven't seen such a robust increase in confidence about our economic future since the summer of 2016. Despite official warning signs about the flatlining of Britain's economy, we know that record high employment and below target levels of inflation are helping to boost consumers' expectations for the year ahead."
The index measuring changes in personal finances during the last 12 months fell decreased by three points this month to -3.
However, the forecast for personal finances over the next 12 months has increased two points to +3 this month; which is four points higher than December 2018.
The measure for the general economic situation of the country during the last 12 months has increased three points this month to -31; this is the same as December 2018.
GfK's 'major purchase index' increased three points in December to +3.
Staton added: "Importantly, for the retail sector, we also have an upwards revision in our Major Purchase Index, a key figure during the remaining shopping days of 2019. The Overall Index Score has failed to break into positive territory for the past four years due to confusion and uncertainty about the future direction of the UK.
"A great many people will be gazing into their crystal balls right now; ours indicates a rebound in confidence in 2020 based on renewed optimism and energy for a post-Brexit Britain."
Morning update
Yesterday afternoon saw both suitors of Just Eat (JE) increased their offer for the online takeaway firm as the takeover saga moves towards a conclusion.
Firstly, Prosus, the Dutch-listed investment vehicle of South African conglomerate Naspers, made a final cash offer of 800p per share worth around £5.5bn.
Soon afterwards, Just Eat's preferred partner Takeaway.com increased its own offer by sweetening the terms of its merger to offer the equivalent of 916p per Just Eat share based on Takeaway.com's closing share price on 18 December 2019 of €88.90.
The Takeaway.com offer will now give Just Eat shareholders 57.5% of the combined group (up from 52.1%) and it also pledged to exit Just Eat's stake in iFood and return half of the net proceeds to shareholders.
Jitse Groen, the CEO of Takeaway.com said: " This offer is a full offer, and on top of that we believe it provides Just Eat shareholders with tremendous upside. The all-share Combination establishes the largest global platform in online food delivery outside China and allows shareholders of both Just Eat and Takeaway.com to benefit from significant long-term value creation.
"This is our best and final offer and we will not go into an auction. This offer will not be increased."
Just Eat said that before the new Takeaway.com offer was made, it had received valid acceptances and in respect of a total of 314,641,871 Just Eat Shares, representing approximately 46.07% of outstanding shares.
"For those shareholders who have not yet accepted, we would urge you to do so with," it added.
On the markets this morning, the FTSE 100 is up 0.2% to 7,588.7pts so far this morning.
Risers included Bakkavor, up 3% to 146.8p, PayPoint, up 1.6% to 1,028p, Reckitt Benckiser (RB), up 1.3% to 6,044p and Naked Wines (WINE), up 1.1% to 226.5p.
Fallers so far include Just Eat, down 1.5% to 799.6p this morning, Hilton Food Group (HFG), down 1.3% to 1,032p and McBride (MCB), down 0.9% to 80.5p.
Yesterday in the City
The FTSE 100 rose a further 0.4% to 7,573.8pts yesterday continuing its strong run since the general election last week.
Just Eat (JE) rose 1.2% to 812p on the news of the new bids being submitted.
Other risers included Domino's Pizza Group, up 2.1% to 321.9p, Nichols (NICL), up 1.9% to 1,650p, McColl's (MCLS), up 1.7% to 38.7p, Morrisons (MRW), up 1.6% to 202.1p, Kerry Group (KYGA), up 1.5% to 112.1p, Associated British Foods (ABF), up 1.5% to 2,604p and Naked Wines (WINE), up 1.4% to 224p.
Yesterday's fallers included Premier Foods (PFD), down 3.2% to 37.6p, Bakkavor, down 1.7% to 142.6p, Cranswick (CWK), down 1.3% to 3,300p and Coca-Cola HBC (CCH), down 1% to 2,539p.