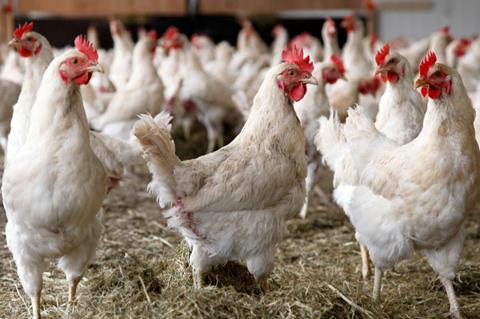 Poultry farms will be forced to keep their flocks indoors from 14 December following a spate of bird flu outbreaks across England, the government has announced.
The housing order will mean all commercial facilities in England, Scotland and Wales – including those practising free-range systems – will be legally required to keep birds indoors in order to stop any contact with wild birds, who may be carriers of the disease.
It marks a significant scaling up of the biosecurity measures already put in place under a Great Britain-wide Avian Influenza Protection Zone, which was implemented in November.
In a statement, the government chief veterinary officers from all three nations advised poultry farms to take steps to safeguard their animals' welfare, consult their vet and put infrastructure in place in the run-up to the introduction of the measures.
"We have taken swift action to limit the spread of the disease," the officers said. "We have not taken this decision lightly, but it is the best way to protect your birds from this highly infectious disease."
The move comes after cases of highly pathogenic bird flu of the H5N8 strain have been registered at farms in Cheshire, Herefordshire and North Yorkshire in recent weeks. Cases have been found in wild birds all over England.
It is the first time in four years a housing order has been imposed on the UK poultry sector due to a significant outbreak of bird flu.
Back then, measures were imposed from December 2016 through to May 2017. It caused major disruption to the free-range sector, which had to temporarily class its eggs as being from barn systems due to EU rules on what constitutes free-range.
The British Free Range Egg Producers Association (BFREPA) and the British Egg Industry Council (BEIC) said free-range eggs would have a fixed 16-week grace period from 14 December before such a move would be required again.
BFREPA said it was working with Defra and the chief veterinary officers to ensure there was an exit strategy from housing orders to allow free-range producers to keep their status.
"The top priority for our members is bird welfare, which is why we fully support Defra's decision," said BFREPA CEO Robert Gooch. "It is a necessary step towards protecting our hens from avian influenza. We are urging all poultry keepers to comply with the rules of the housing order as well as implementing robust biosecurity protocols."