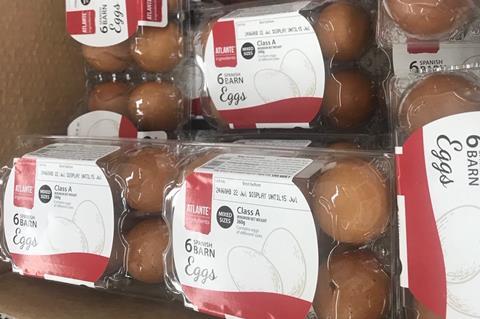 Sainsbury's has been forced to source shell eggs from Spain and Italy in response to "exceptionally high" demand.
The retailer started sourcing barn eggs from the two countries late last month in response to the demand surge from shoppers who were "spending more time cooking and baking at home".
It follows a similar move by Lidl to source Dutch eggs in May.
Sainsbury's said it was selling about two million more eggs a week than in normal circumstances. Despite working with UK suppliers to offer mixed weight packs, and sourcing more liquid egg products and eggs destined for foodservice, this alone "was not enough" to cope with the extra demand, a spokesman admitted.
"In order to continue our long-standing commitment to only stock cage-free eggs, we have been forced to temporarily source from other countries," he added.
Eggs sourced from outside the UK include a mixed six-pack of Spanish barn eggs from supplier Atlante Ingredients at 85p each.
A six-pack of British Lion barn eggs would normally sell for 75p. However, the SKU is currently out of stock.
"We are committed to sourcing British as much as possible. British suppliers are telling us that they are now able to provide us with more eggs," the spokesman said.
"Hopefully this continues and we'll soon be able to revert back to our usual range while continuing to meet increased demand."
The retailer has also been forced to revert back to plastic packaging on some egg lines in recent weeks, prompting a number of customer complaints on social media. However, Sainsbury's stressed the move was temporary, due to an industry-wide shortage of pulp.
"We are using our standard recyclable packaging as much as we can, but some eggs may be packaged in plastic temporarily, the vast majority of which is recyclable," the retailer said.
"We will be returning to the packaging we typically use as soon as possible and will keep our customers updated."
It comes as volume sales of shell eggs in the mults were up 19.7% in the four weeks to 30 May [IRI]. Sales have peaked at almost 30% higher on several occasions since March.
Egg producers were expecting the surge in consumption seen during the coronavirus crisis to continue in the long-term, said British Egg Industry Council chairman Andrew Joret.
"The good thing from our point of view is that retailers who have stocked imported eggs have said they are all still committed to British Lion eggs. And as soon as more are available they will switch back," he added.
"Most of us in the industry think there has been a bit of a sea change in terms of consumption, and some of this growth will be permanent," he said. "There's no reason, given time to grow flocks, why producers can't cope with that."