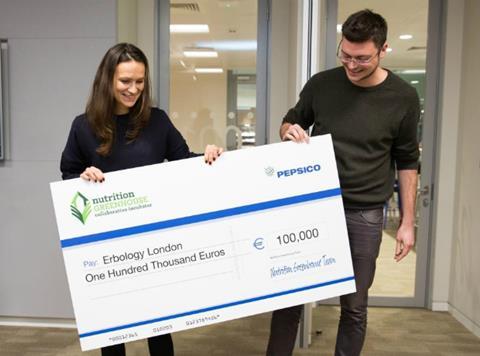 UK wholefood startup Erbology London has won a €100k grant from PepsiCo's Nutrition Greenhouse incubator programme, outdoing seven other burgeoning food and drink businesses from across western Europe.
Erbology, which makes plant-based products including oils, shots, crackers and energy balls, achieved more than 400% growth during the six-month initiative, which kicked off in June. Eight emerging nutrition and health & wellness brands were selected to work with PepsiCo experts from brands such as Quaker, Alvalle, Naked Juice and Tropicana – to tackle key business challenges such as distribution, marketing and supply chain.
Each startup received €25k to grow their business, with an additional €100k pledged to the most outstanding. A nine-member selection committee chose Erbology as the recipient of the final grant for having displayed standout sustainable and scalable growth. It saw off competition from the UK's Fit Kitchen and Tapped Birch Water as well as brands from Spain, France, Germany, Switzerland and the Netherlands.
Since being selected for the programme, all eight small companies had seen "impressive strategic expansion, brand evolution and revenue growth" said PepsiCo. Overall retail sales of the collective group had grown by nearly €10.7m.
Juan Ignacio Amat, PepsiCo vice president for nutrition in western Europe and sub-Saharan Africa, said Nutrition Greenhouse's goal had been "to work with breakthrough brands that share our vision to deliver more convenient great-tasting everyday nutrition products, and we've achieved just that."
He went on to praise the "enthusiasm, drive and collaboration" of Erbology's founders, siblings Irina and Victor Turcan.
Irina Turcan said the business, set up in 2015, would now focus on accelerated growth in retail and e-commerce. Nutrition Greenhouse's programme had been "a fantastic experience that's really helped us understand how to focus hard on what is right for our brand and then to execute that activity flawlessly."