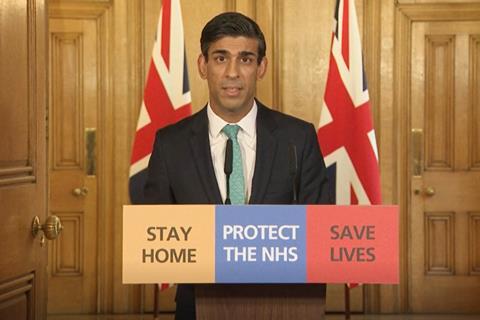 Food & drink SMEs have welcomed the revamp to the government emergency loan scheme, but warned there remain issues to be ironed out.
Chancellor Rishi Sunak unveiled an extension to the CBIL scheme to include a wider number of businesses, remove personal guarantees for loans up to £250k and ensure all viable small businesses affected by the coronavirus – not just those unable to secure regular commercial financing – were deemed eligible to apply.
The changes come as several small business founders reported struggling to access the emergency measures, with less than 1,000 approvals on 130,000 applications.
"I am glad the scheme has been updated. It was never going to be perfect, but as soon as it came out most startups realised it was not going to help them," said Andrew Allen, partner in Biff's and non-executive director of a number of SMEs.
"Most people understand the government doesn't have access to a bottomless pit of money. Every industry is asking for help and there is only so much cash available.
"But the startup world is such a fundamental part in creating jobs and driving innovation and we will need these businesses going forward."
The decision to ban personal guarantees on loans up to a quarter of a million pounds was "absolutely fundamental" to ensure founders felt more secure in applying for the loan, Allen added.
Oliver Bennett, founder of Xite, said as a young entrepreneur still in the rental sector, having to put up a personal guarantee – often a house – was a "big issue" and having the government ban banks from that practice constituted "great support".
But SMEs warned there remained issues to be addressed with the scheme, such as banks' eligibility criteria, which so far seems to still be considering the traditional measure of affordability.
As many startups pursue aggressive growth strategies, reliant on continued investment before reaching profitability, founders worry banks will refuse them the cash.
Allen stressed businesses could be turning over up to £2m but still be "burning through cash".
"On traditional metrics, those businesses are not going to qualify," he added.
Brain Füd co-founder Philip Udeh agreed: "We have been dependent on raising rounds of investment and have been loss-making for our first two financial years. Quite frankly I think we would have little chance of getting access to the loans."
Additionally, under the scheme there are currently no restrictions on the percentage of interest rates banks can charge, and despite the loan being 80% government backed, a large interest rate would still be unpalatable to many small businesses, Bennett argued.
"It would make it a void proposition to us," he added.
The British Retail Consortium joined it to welcome the new measures, stressing that "quick and easy" access to funds will be vital for businesses in the current crisis.