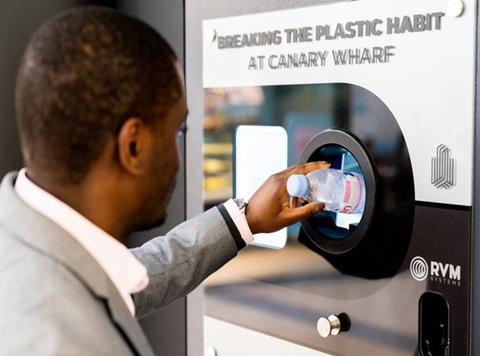 Money. Power. Bankers in Savile Row suits. All associations your average Londoner might make with the towering commercial district of Canary Wharf, where the sun reflects off the 771 ft Canada Square skyscraper on to 97 acres of prime real estate, and 105,000 employees cash in an average paycheque of £100k. The setting for the latest battleground in the war on plastic? Less likely.

That's where they'd be wrong, according to the Canary Wharf Group, which this month launched the 'Breaking the Plastic Habit' campaign with a commitment to open up the district as a test bed for innovation and ideas on reducing single-use plastics. "We're striving to harness the power of collaboration and test new ideas and to drive impactful market-based change utilising Canary Wharf's position as a micro city," said Steve Greig, managing director of the Canary Wharf Group, at a launch attended by major retailers, manufacturers and suppliers from the food and drink industry in June.
"The best place to start the journey is where people live, in cities," he added. "As a property developer we are uniquely placed to lend a micro city perspective to this issue. Canary Wharf is a major retail and real estate destination in the heart of London and so is a great platform to explore how plastics are used in a thriving urban setting."
"Canary Wharf is a major retail and real estate destination and so is a great platform to explore how plastics are used"
Because, as the developer points out, as well as five shopping malls, 16 million sq ft of office space and 300 retailers, the area also sees 17,000 coffee cups chucked out each day. In 2017 it handled some 8,000 tonnes of waste.
Long before David Attenborough accelerated it up the public agenda, the self-styled micro city was experimenting with ways to tackle the problem. In 2015 it overhauled its waste management system to create three simple tiers for consumers - recyclable, not recyclable and food waste - which is streamlined across its tenants leading to a boost to recycling rates. "Does it work 100%? No. We're learning as we go along. What we have is a consistent message we can communicate across the estate, which I think puts us in quite a good position," says Lugano Kapembwa, sustainability manager at Canary Wharf Group.

In February 2017 it turned its attentions to takeaway coffees, creating a 'Clean Coffee' zone complete with specialist recycling bins for cups and partnering with tech company Bio Bean to recycle surplus granules from its retailers and cafés. Since launch it's recovered more than 700,000 coffee cups and 170 tonnes of used coffee granules.

In April 2018 it launched what it claims was the first UK on-site DRS too, with a state-of-the-art reverse vending machine installed (at a reported cost of £30,000 per unit) that shoppers and office workers could feed single-use plastic bottles and cans.
And then this month - alongside its broader campaign - the group announced an initiative to eliminate single-use plastic straws from the estate, requiring all bars, cafés and retail outlets to ditch them for three weeks. "That's brought us to where we are today," says Kapembwa, with an increasing number of companies approaching the estate to experiment with new innovation and its decision to create the 12-month Breaking the Plastic Habit scheme to pilot further ideas.

"Canary Wharf is a high-profile estate, home to a number of large businesses ranging from tech to banking to general business management and also over 300 retailers, so it's a really diverse range of customers," he adds. "But the key thing is it's a private estate and we as a landlord have greater control over the flow of resources through it.

"Normally people will buy, consume and dispose of resources in the same place, which enables us to monitor the purchase of these resources and their disposal better. Companies that are innovative have latched on to that and realise you can generate quite a pure recyclable stream to use and demonstrate these technologies work."

On top of that, the close proximity of retailers and businesses offers 'an ideal platform to fast track collaboration,' says the group, as well as acting as an 'incubator, providing a fertile ground for innovation and experimentation'.

Already there has been plenty of interest, insists Kapembwa. "There is one company that has created the UK's first 100% post-consumer recyclable milk bottle from high-density plastics. What we found via a quick inventory is that within our offices alone we have around quarter of a million milk bottles consumed a year. We can work with this company to create a pure stream of high-density plastics and demonstrate they can produce these bottles en masse rather in small test scenarios. These are the kind of conversations we're having with a number of companies and will see what works and what we can bring on to the estate."
Packaging partner
Packaging company Klöckner Pentaplast would love to be involved, says its UK & Australia MD Helene Roberts. "We don't use virgin polymer in our trays but we can't get enough recycled plastics in the UK. I'm importing, which seems counterproductive when we know there is more available in the UK, so we'd be delighted if as one microcosm of the project we'll take that material from Canary Wharf and make packaging out of it. We'd be delighted to partner on that and we've made that offer."

Mightn't it all be an extravagant PR exercise, though? "You can take it as PR exercise and it'll be very short-lived and unsustainable as a project but as long as people put the right resource and effort into it I think these things - as long as you prove they make sense to do - they'll continue on and start to build," she says. "Sometimes that grassroots approach really helps."
There are challenges to any project like this, points out Sanjay Patel, founding partner of the Packaging Collective, in defining the parameters of how and where single-use plastic might enter the estate's ecosystem, a consistent definition of single-use and all the things that might fall within that scope. After all, "all plastics are 100% recyclable if recovered." But that doesn't mean it isn't "absolutely worthwhile doing".

And regardless "you learn a lot more from what hasn't worked and what has been most challenging than you do from successes so I think what we are encouraging from our tenants, both retailers and buildings, is to share your journey, share what's working and what's not working," sums up Kapembwa. "Bring it here and we can act as a facilitator bringing together all this knowledge and disseminating it.

"If a company feels something can be done at Canary Wharf then absolutely bring it to us and we will do everything we can to make sure these things can work as well as they can."