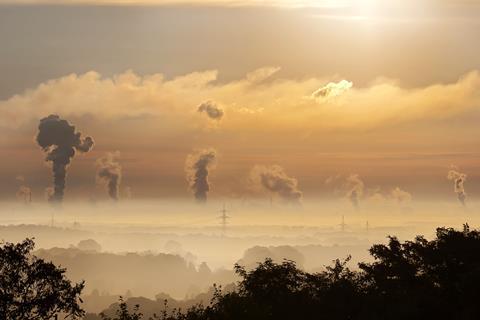 Nestlé has accelerated its efforts to fight climate change, announcing its ambition to achieve zero net greenhouse gas emissions by 2050.
The plan "embraces the most ambitious aim of the Paris Agreement, to limit global temperature rise to 1.5°C" said the Swiss food and drink giant ahead of the UN secretary-general's Climate Action Summit this month.
Nestlé's announcement today built on "a decade of work to reduce greenhouse gas emissions" it said. In the past four years, Nestlé had "aligned its objectives with science-based targets to keep the temperature increase below 2°C" – with the company's top 100 distribution centres having reduced greenhouse gas emissions by almost 40%.
"The company is determined to play a leading role in tackling climate change," it added. "Over the next two years, it will lay out a time-bound plan including interim targets consistent with the 1.5°C path."
To achieve its 2050 ambition, its specific actions will include launching more products that have a better environmental footprint and contribute to a balanced diet – including more plant-based food and beverage options. Nestlé will also look to reformulate existing products using more climate-friendly ingredients.
The supplier is also scaling up agricultural initiatives to absorb more carbon. Nestlé has vowed to strengthen its programmes with farmers to restore land and limit greenhouse gas emissions. The company would will step up efforts to protect forests by replanting trees and enhancing biodiversity, it said.
A shift to 100% renewable electricity in all factories, warehouses, logistics and offices is also part of Nestlé's zero emissions plan. A third of its factories already use 100% renewable electricity, and the supplier intends to invest in infrastructure such as wind and solar farms.
Climate change was "one of the biggest threats we face as a society. It is also one of the greatest risks to the future of our business," said Mark Schneider, Nestlé CEO.
"We are running out of time to avoid the worst effects of global warming. That is why we are setting a bolder ambition to reach a net-zero future. Deploying Nestlé's global resources and industry knowhow, we know we can make a difference at significant scale."
Suntory makes sustainable packaging pledge
Also today, Suntory Beverage & Food Europe set out its plan to move to 100% sustainable plastic bottles within a decade, fully moving away from virgin plastic derived from fossil fuels.
The maker of soft drinks including Lucozade, Ribena and Orangina will aim by 2030 to use only recycled or bioplastic.
By accelerating existing efforts, and through deposit return schemes across Europe, SBFE would initially use 50% rPET across primary packaging by 2025, it said.
It comes after the company joined with Nestlé Waters and PepsiCo to announce in April a partnership with a consortium developing a means to return used plastic to its virgin state.
The soft drinks giants are backing development of a recycling technology that uses enzymes to break down plastics. The work is being carried out by a consortium founded by beauty multinational L'Oréal and Carbios, a bio-tech company, with the intention "to reinvent the lifecycle of plastic and textile polymers" and market the solutions on an industrial scale.
It was SBFE's "founding promise to coexist with people and nature" said CEO Peter Harding. "Plastic waste is not acceptable – and we are investing to find new and innovative solutions to address this global issue."
"Our priorities are limiting our impact on natural resources, eliminating waste, and reducing our carbon footprint. The changes and innovations we are making are massive. They are set to remove thousands of tonnes of new plastic made from fossil oil from our manufacturing operations every year."
The work would also contribute to a significant reduction in SBFE's CO2 emissions "since sustainable plastic has a lower carbon footprint than making new plastic" Harding added.