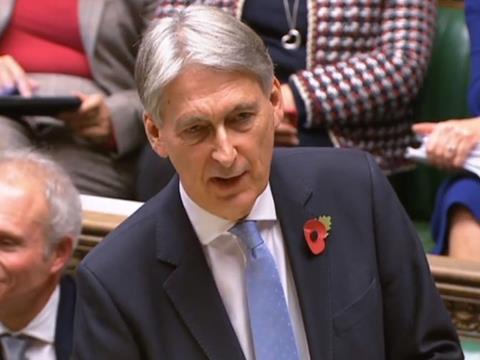 Chancellor Philip Hammond's plan for a new tax on single-use plastics comes as "nightmare timing" for the food and drink industry, its leaders have warned.

In his Budget on Monday, Hammond revealed plans for a new tax on produced or imported plastic packaging, which will apply to all plastic packaging that doesn't include at least 30% recycled content.

FDF CEO Ian Wright said the proposal, amid huge uncertainty over Brexit and soaring materials costs, risked imposing an unwelcome new financial burden on companies.

"There is significantly increased worry across the sector following the announcement of the chancellor's new tax on plastic packaging," Wright said. "This will undoubtedly place many more financial burdens on UK food and drink manufacturers. That loads on cost at a time when just under three-quarters of our members report that their packaging costs are increasing."

The government is due to publish plans for a further consultation in the next few weeks on a controversial DRS scheme, led by Defra sectary Michael Gove, to recycle plastic, cans and potentially glass bottles - which industry leaders have warned could also hit retailers and suppliers with substantial costs.
"It's vital the government shows it can follow a joined-up policy on plastic," said one retail source.

"The danger is that we are being hit from all sides with proposals that aren't properly co-ordinated, impose huge new costs, and will fail to tackle the root problems with recycling and plastic waste.

"Retailers and suppliers are rising to the challenge of tackling plastic pollution and it would backfire completely for the government to introduce policies which make that harder."

The Treasury said a consultation on its new fiscal measures would take place in the coming months to "ensure that they work together in a coherent way."

The chancellor's plans in the Budget to get tough with the industry received a rapturous response from environmental campaigners.
"Finally, we are shown the leadership we needed," said A Plastic Planet co-founder Sian Sutherland. "By taxing virgin plastic we will prevent the continual misuse of this indestructible material.

"We can now start to build the foundations for the UK to be a world leader in the new biomaterials of the future. The people have been heard."Hammond's clampdown comes as major food and drink companies have stepped up their voluntary battle to reduce plastic pollution.

This week, Nestlé, Coca-Cola, Unilever, PepsiCo and Pernod Ricard were among 274 signatories of a new global initiative spearheaded by the Ellen MacArthur Foundation.

Its Plastics Economy Global Commitment is backed by companies responsible for 20% of all plastic packaging worldwide, as well as governments, NGOs, universities, industry associations, investors and other organisations.

The global commitment will build on and reinforce initiatives including the G7 Plastics Charter, the EU Strategy for Plastics in a Circular Economy, the Commonwealth Blue Charter, and the Communities of Ocean Action established by the UN. Battling plastic pollution had "captured the imagination" of fmcg suppliers "more than previous environmental topics" said Debbie Hitchen, plastics & packaging sustainability lead at Anthesis Group.

Some businesses, such as Iceland, had set themselves ambitious targets to make their packaging greener, and "by setting that very high-level benchmark, it's setting something for the collaborative industry to work towards. You need that sort of leadership to drive change," she added. "However, many targets are much more pragmatic."