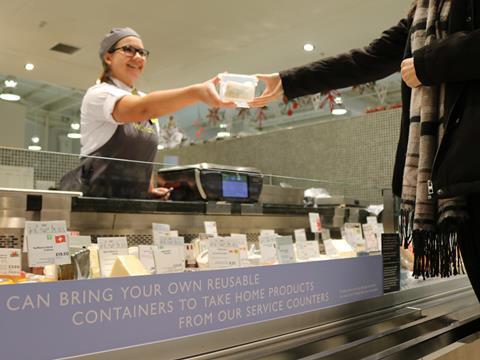 Waitrose is encouraging customers to bring their own reusable containers for products from its meat and fish counters.

The supermarket's customers are being asked to bring clean, lidded containers to take fresh meat and fish purchases home rather than using plastic bags. Signs promoting the initiative have been added next to meat and fish counters in all 349 stores.

Waitrose aims to remove plastic bags from its counters once it finds a suitable, environmentally friendly alternative that maintains hygiene standards.

Partners are tasked with checking the containers customers bring are clean, lidded and secure.

Morrisons implemented the same strategy in June 2018 to help it prevent waste.

"Our long term aim is to completely remove bags from our counters or find a suitable alternative for meat and fish in the same way we have with compostable fruit and veg bags, which will be introduced this year," said Waitrose head of CSR, health and agriculture Tor Harris. "We haven't as yet found that option, and we know we can't remove them overnight as there are food safety considerations when handling raw meat and fish."

Staff are also being urged to have conversations with shoppers about its environmental pledges including this initiative. "These conversations and the signs are designed to help us work with customers to start making a difference as soon as possible," said Harris.
Chris Elliot, director of the Institute for Global Food Security at Queen's University Belfast, said providing the containers customers used are clean, there is "no real food safety risk" with the policy. "It is just a case of basic hygiene through this, and I can see this spreading across the retail sector as another way to help reduce the use of plastics," he said.

A spokeswoman for the Food Standards Agency said Waitrose was ultimately responsible for supplying food that is safe for customers to eat and adheres to food laws. She told The Grocer: "Nothing in food hygiene legislation prohibits the public from bringing in their own reusable plastic containers, and using them instead of those supplied by the business. However, this is at the discretion of the business, and we advise that people using reusable containers should ensure they are cleaned properly after every use and replaced as necessary."

Waitrose has introduced the initiative as part of its ongoing strategy to reduce plastic use and become more environmentally-friendly. It has committed to make its own-brand packaging widely recyclable, reusable or home compostable by 2023, and remove disposable cups from stores.