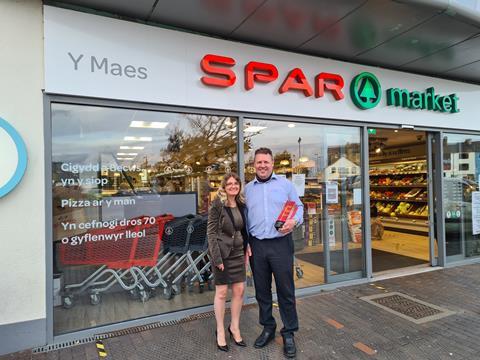 Spar Y Maes has been crowned Convenience Retailer of the Year as the industry gathered to celebrate The Convenience Awards.
The store in Pwllheli, North Wales also picked up the gong for Best Independent Convenience Store. In total, Spar retailers claimed five awards, while Spar was also named the Shoppers' Favourite Convenience Store for the impulse category.
The 2,999 sq ft Y Maes store underwent a major refit last year, putting a major focus on fresh produce, including a tank for locally caught lobster. It is owned by Conrad Davies, the fifth generation of his family to run the store.
The event, which brought together the convenience expertise of The Grocer, Convenience Store and Lumina Intelligence, was held digitally, due to the coronavirus pandemic, with the ceremony hosted by TV presenter Konnie Huq. However, the Convenience Retailer of the Year award was handed out live during a surprise visit to the store.
"It's fantastic to win this award," said Davies. "It's a complete shock for us but we're really pleased.
"With everyone going through tough times right now, it's great to have a morale boost like this.
"It's a reward for all of the staff at the store who have worked so hard over the past six months. None of this would have been possible without the support of the local community.
"AF Blakemore has also been a tremendous support and a big part in helping our vision for the store come to life.
"When we were planning this refit, this was just an idea I had in my head and AF Blakemore helped make it a reality."
A roving camera crew was also on hand to surprise Premier brand director Martyn Parkinson as his symbol was named The Shoppers' Favourite Convenience Fascia. This was calculated using Lumina Intelligence's Convenience Tracking Programme. Premier scored consistently well in its staff friendliness, speed of service, store cleanliness and ease of shop metrics.
"I'd really like to say a very big thank you to all of our Premier retailers and this shows they are doing a fantastic job for their shoppers and serving their local communities," said Parkinson.
"This is the third consecutive year Premier has won this prestigious award and it's an absolute honour to accept it on behalf of our customers.
"I hope this award will really inspire our retailers to know that they're really being appreciated by their shoppers and we can continue to build on this amazing success. Thank you – this means the world to everyone at Premier, the Booker team and our fabulous Premier retailers."
Lumina Intelligence MD Jill Livesey and The Grocer and Conveniencestore.co.uk MD Lorraine Hendle said: "Convenience retail has been on the frontline since the beginning of the pandemic, ensuring local communities have access to the essential produce that they need.
"Last night saw the entire convenience community come together to recognise the achievements of individuals, initiatives and businesses that are at the forefront of our brilliant industry.
"Huge congratulations must go to our winners. However, every single award was incredibly closely contested, showcasing the high standards set across the industry."
Another big winner on the night was the Co-op, which claimed a hat-trick of prizes.
The winners:
Store Award Winners
| | |
| --- | --- |
| Award | Winner |
| Convenience Retailer of the Year | Spar Y Maes, Pwllheli |
| Best Large Convenience Store | Budgens Arbury, Cambridge |
| Best Multiple Managed Convenience Store | Spar Laceby Lodge |
| Best Independent Convenience Store | Spar Y Maes, Pwllheli |
| Best New Store | Nisa Millennium View, Coventry |
| Best Small Convenience Store | Premier Linktown Local, Kirkcaldy |
| Community Retailer of the Year | Premier Linktown Local, Kirkcaldy |
| Best Training Initiative | Empire Wines & Spirits, Southport |
| Excellence in Sustainability | Thornton's Budgens, London |
| Excellence in Technology | Spar Loughbrickland, Co. Down |
| Food to Go Retailer of the Year | Spar Titanic, Belfast |
| Sales Assistant of the Year | Jo Bates, Southern Co-op, Lenham |
| Retailers' Retailer of the Year | Navin Soni, Thrifty's, St Helen's |
Research Award Winners
| | |
| --- | --- |
| Award | Winner |
| Shoppers' Favourite Convenience Fascia for Fresh & Chilled | The Co-op |
| Shoppers' Favourite Convenience Fascia for Impulse | Spar |
| Shoppers' Favourite Convenience Fascia for BWS | Premier |
| Shoppers' Favourite Convenience Fascia for Food to Go | The Co-op |
| Shoppers' Favourite Forecourt Fascia | Nisa |
| Shoppers' Favourite Symbol Group | Premier |
| Shoppers' Favourite Managed Convenience Fascia | The Co-op |
| Shoppers' Favourite Convenience Fascia | Premier |
| Retailers' Favourite Supplier for Innovation & NPD | Coca-Cola |
| Retailers' Favourite Supplier Salesforce | Coca-Cola |