Watch The Grocer Gold Business Initiative of the Year 2020
The winner of The Grocer Gold Business Initiative of the Year 2020 has been announced.
Co-op's Safer Colleagues Safer Communities campaign, which introduced a three-stage plan to tackle retail crime, has taken the title.
It's a timely moment for Co-op to win this award for its long-standing campaign against retail crime. Because during the pandemic, the issue has well and truly come to the fore.
Six in 10 shopworkers experienced verbal abuse at the start of the pandemic, found an Usdaw survey of 5,000 retail staff, while 28% were threatened. The Co-op's own figures also point to the rise of the issue. In the space of one week, it recorded as many as 990 incidents of antisocial behaviour and verbal abuse, as Covid restrictions proved a trigger for incidents.
It was clear something needed to be done. Luckily, Co-op had been working to tackle retail crime well before Covid-19 reared its head. In December 2018, it officially launched its 'Safer Colleagues Safer Communities' campaign, headed up by retail chief executive Jo Whitfield. Her motivation was clear: "Nothing is more important than protecting our colleagues now and in the future."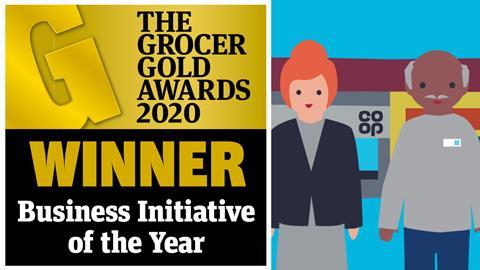 Whitfield realised retail crime was a complex issue. So Co-op took a "three-strand approach" to reduce incidents and secure a safer future for its staff.
The first strand was to protect colleagues against the immediate threat. To that end, Co-op invested in "industry-leading technology and support systems" in its stores. That included Smart Water systems at ATMs to prevent theft, plus the installation of fog cannons, which disperse fog when activated by staff members. "It really breaks the incident of crime and it's impossble for the offender to continue, really," explains Whitfield.
Plus, in July, Co-op took the lead in equipping staff with body-worn cameras, which can capture real-time audio and visual feeds when activated. "Colleagues say the bodycams immediately give them a sense of safety and, interestingly, really deter people," says Whitfield. Frontline staff have reported "really benefiting" from the overall investment in safety measures, she adds.
But Co-op knew it couldn't stop there. The second strand of its work was arguably the toughest: lobbying the government for greater protection of retail workers. At present, there is no specific offence for acts of violence towards shopworkers. Co-op has worked hard to get an offence enshrined in law.
Whitfield herself has spoken passionately about the issue on a number of occasions, last year delivering a keynote speech during Usdaw's Respect for Shopworkers week. She also spurred on 5,000 Co-op colleagues to write to their MPs.
And finally, it looks as though change is coming. In September, the Scottish government unanimously voted for a new law to protect shopworkers from violence.
At Westminster, things are at an earlier stage, but there is still momentum. In July, the Home Office unveiled new steps to crack down on crime, including working with the National Retail Crime Steering Group on a best practice guide to support staff in reporting crimes, strengthening and making full use of existing laws, and improving data sharing between businesses and the police. There will be a second read of Labour MP Alex Norris' private member's bill to counter shopworker violence in January.
Then there is the third strand of Co-op's work, which involved tackling crime in local communities. "We did research to understand the causes, and what might steer people away from crime and give them better outcomes," says Whitfield. What's more, it's put investment towards this aim. Through its Local Community Fund, Co-op has given more than £5.5m to over 1,600 UK groups tackling the root causes of crime, including the Damilola Taylor Trust, the Edge Theatre Company and Steel Warriors.
That figure is just a small part of a mammoth investment. The Co-op has already spent £70m in tackling crime, and has committed to spend the same amount over the next three years.
It's a sign that Co-op feels there is still plenty of work to do. Although Whitfield says the campaign has been "successful on many fronts", she is particularly keen to see Westminster take a tougher stance on shopworker abuse. "I think they can do more," she stresses.
Luckily, Co-op has plenty of allies in the retail industry. "As retailers, we're all coming together to make sure the goverment does keep hearing from us," Whitfield says. And Respect for Shopworkers week is coming up again on 16 November, which "gives us another opportunity to get the knowledge and understanding there, and keep putting pressure on".
Judging by its extensive and passionate campaigning to date, if anyone can get the government to listen, it's Co-op.
The Golden Week
Every day this week on thegrocer.co.uk at 3pm we'll be announcing the winners of The Grocer Gold Awards.
Tuesday 10 November: Factory Manager of the Year
Wednesday 11 November: Business Initiative of the Year
Thursday 12 November: The Grocer Cup
Friday 13 November: The Grand Finale announcement of all the winners