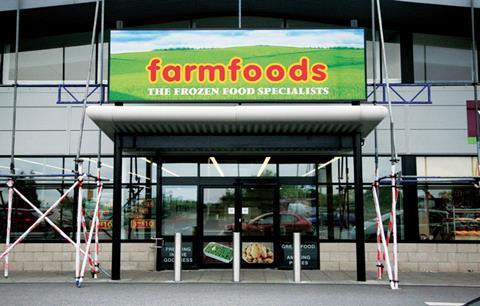 Farmfoods sales soared by 35% in 2020 as the frozen food retailer continued trading and opened new stores throughout the pandemic.
Turnover was £892.5m in the 12 months ending 2 January 2021, up from £661.8m the year before, accounts filed at Companies House have revealed. Profit before tax was up 18.5% to £26.2m.
According to location data specialist CACI, the business opened at least 12 new stores between September 2019 and December 2020, taking the number to 329. Six of those were added between December 2019 and December 2020, roughly matching the accounting period.
The Grocer revealed last summer that Farmfoods was snapping up stores left vacant in the CVA process launched by Poundstretcher, whose estate shrunk from 384 to 353 branches between September 2019 and December 2020, according to CACI.
Farmfoods accounts do not include store numbers but reveal staff count rose 17% to 4,509, with 642 of the 645 recruits in retail operations.
The group invested £11.7m in freehold property and "assets in the course of construction" during the accounting period, having spent £14m the same way the previous year.
Meanwhile the "net book value" of leasehold property went from £6.8m to £9.7m
New store locations for Farmfoods in 2020 included Fareham in Hampshire, Pontypridd in south Wales and Dagenham in Kent, the latter in a former Poundstretcher.
Farmfoods also took over Poundstretcher sites in Littlehampton in West Sussex, south Wales' Pembroke and a number of locations in London.
In August last year Farmfoods signed a 20-year lease for a 262,000 sq ft distribution facility in Solihull as part of its ongoing expansion, having been located in an adjacent unit.
So far this year, new Farmfoods stores include one in a former Aldi in Southend, Essex, and another in Liverpool's Wavertree Retail Park.
Competition remained the principle risk for the businesses, according to the accounts.
The top priority in dealing with "exceptional challenges" of the pandemic had been and remained ensuring the safety of staff and customers and supporting suppliers to maintain availability of essentials.
However, as an essential retailer, the group was "not negatively affected by Covid-19 restrictions and traded throughout the year and continue[s] to trade ahead of budget".
Director Eric Herd, who controls the North Lanarkshire-based publicity-shy company, was paid £6,375,000 for shares which were subsequently cancelled, representing 9.6% of the issued share capital.