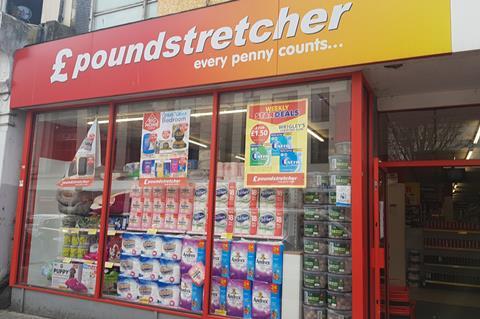 The axe has started to fall at struggling Poundstretcher, with 10 out of 23 area managers told they face redundancy this week.
Six more staff in buying and loss prevention also face redundancy, The Grocer has learned.
The job losses follow the approval by creditors earlier this month of a rescue plan for the variety discounter. The company voluntary agreement (CVA) put more than half of Poundstretcher's roughly 450-store estate at risk as it seeks rent reductions.
As the rescue plan was announced in June, Poundstretcher claimed in a memo to staff "it is possible that no stores may close". However, since the launch of the CVA, more than a dozen stores have either closed or been listed for closure by the end of July, The Grocer understands.
They include the Littlehampton branch in West Sussex, which is being taken over by Farmfoods. It is one of at least 15 branches understood to be converting to the frozen food retailer, including around five in London and one in Pembroke.
The latest store closures are on top of about 30 that had already shut since the start of lockdown.
A source told The Grocer the 10 area manager redundancies left the remaining 13 with the "impossible" task of overseeing between 40 to 50 stores each, instead of about 20. The "first wave" of redundancies is due to complete by the end of this week unless affected staff "take a significant pay cut to do different roles, in some cases paying up to £25,000".
Neither Poundstretcher nor Farmfoods provided a comment.
Under the terms of the CVA, the fate of 253 stores is dependent on their performance and landlord co-operation in the coming weeks.
The CVA also proposed 30%-40% rent reductions on another 84 stores for a period of three years.
"A lot of landlords are agreeing to rent deals, but the remaining area managers are trying to close stores while also doing their day jobs," said the source.