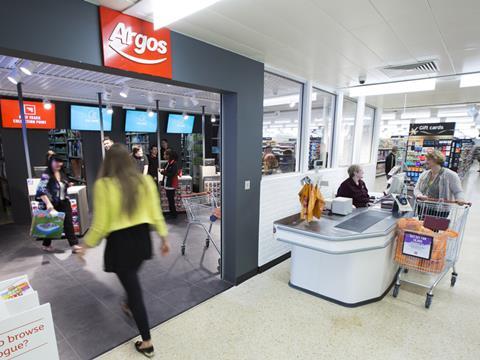 Top story
The board of Argos owner HOME Retail Group has unanimously backed the £1.4bn takeover by Sainsbury's.
The supermarket was left as the de facto winner of the takeover contest when rival Steinhoff pulled out of the bidding two weeks ago.
Sainsbury's CEO Mike Coupe and CFO John Rogers did not table a higher offer but the rise in the supermarket's share price since the start of the bidding process lifted the value to 171.5p a Home Retail share.
The deal will create the UK's biggest non-food retailer with revenues of £6bn propelling the combined group ahead of John Lewis and Marks & Spencer.
Home Retail shareholders still need to give the acquisition the green light at the upcoming general meeting and Sainsbury's will also need approval from the various regulatory bodies before the transaction is completed.
Sainsbury's chairman David Tyler said: "We are very pleased the board of Home Retail Group has recommended our offer for the acquisition of its business to its shareholders. The combined business will offer a multi-product, multi-channel proposition, with fast delivery networks, which we believe will be very attractive to customers and which will create value to both sets of shareholders.
"The acquisition will now be carried out through a scheme of arrangement, helping to facilitate a speedy completion which is in the interests of the customers, colleagues and shareholders of both businesses. Our next steps are to focus jointly on ensuring we obtain the necessary regulatory clearances and that we are well prepared for the future integration of these two great retailers."
Morning update
Irish banana supplier Fyffes (FFY) has acquired Canada's largest mushroom business for CAD$145m (£78m). Highline Produce operates from five facilities, of which four are owned and one is leased, with retail customers accounting for about 75% of sales, and wholesale, food service and canning customers accounting for the balance. US customers represent about 35% of its current annual revenues. Highline's management team, led by CEO Glenn Martin, will continue to run the business.
Fyffes chairman David McCann said: "Highline is a very fine business with a strong position in an important product category. We look forward to working with Glenn Martin and his management team to continue to develop the business. This transaction fits perfectly with Fyffes strategic objective of adding an additional product to its existing three through the acquisition of an established, successful, integrated operator in a category with significant scale."
Average UK household weekly disposable income reached close to £200 in February as wages continued to rise above inflation, according to Asda's latest income tracker. February's figure of £197 represents an increase of £12 (6.7% annual increase) compared to the same month a year ago, as the added boost in discretionary income grew for the first time month-to-month since September 2015. It is the 16th consecutive month of double-digit increases to family bank balances, with wage growth being the main contributor to the impact on British purse strings, rising more than 2% compared with the same time last year. February was also the first month since January 2015 which did not see deflation on basic goods, with 'essential' item inflation of 0%.
"Households across the UK continue to see a rise in their discretionary income with the falling cost of essentials including food and fuel providing consumers with more good news for February," Asda President and CEO Andy Clarke said. "We've also passed a milestone in the economy, with spending power growth remaining in the double digits for 16 consecutive months, positive trends in employment growth and wage increases all likely to continue to help the nation's pockets – it also sets a positive picture for the months ahead which is encouraging for the macro economy."
Ingredients group Treatt (TET) warned this morning of being hit by volatility in exchange rates. The business said in a trading update for the first half to 31 March that sharp movement in the sterling/US dollar exchange rate meant it would report a net FX loss of approximately £600,000 for the period. Treatt said the first half began steadily and, as expected, momentum progressed with a strong end to the period in March. "Looking forward to the second half of the financial year, there continues to be good momentum across all parts of the business and whilst it remains too early to be certain, the board believe the group remains on course to meet its expectations for the full financial year ending 30 September 2016."
Despite the backing of the Home Retail board, shares in Sainsbury's (SBRY) have fallen further this morning (see below), down 1.2% to 272.7p. Home Retail has also slipped 0.4% to 165.2p. Elsewhere Fyffes shares are up 3.6% to 113.7p after it announced the acquisition of Canadian mushroom business Highline and Conviviality (CVR) is also up 1.6% to 238.8p. Treatt has taken a 4% hit to 168p thanks to its glum first half update, Fever-Tree (FEVR) has dropped back 2.5% to 646.3p and Tesco (TSCO) has also fallen 2% to 188p. The FTSE 100 also opened down 1.1% to 6,108.55 points.
Yesterday in the City
Tesco red meat supplier Hilton Food Group (HFG) recovered some of the losses made so far this year as its share price jumped 4% to 515.7p as profits soared 11% to £28m last year. Hilton benefited from larger volumes at Tesco after investing heavily at the Cambridgeshire site to expand its business with the supermarket. Investment firms Peel Hunt and Numis upgraded their recommendations from 'add' to 'buy' on the stock, which has been weak in 2016, down more than 7% to date.
Booker (BOK) was another strong performer in grocery yesterday with shares finishing the day 2.1% higher at 172.3p despite a mixed fourth quarter trading update. Like-for-like sales dropped 2.5% during the period to take full-year like for likes 1.9% lower year on year but group revenues, including Budgens and Londis, rose 10.6% compared to the same quarter a year ago to take total sales to £5bn for the year – up 5%.
Conviviality (CVR) added an extra 3.3% to its value to 235p, Fever-Tree (FEVR) was up 2.1% to 663p and British American Tobacco (BAT) climbed 0.4% to 4,090p.
After surging back to its highest closing level of 2016 yesterday, the FTSE 100 fell back 0.5% to end the poor first quarter at 6,174.9 points, with global equity markets generally weighed down by lower commodity prices.
European Coke bottler Coca-Cola HBC (CCH) and Sainsbury's (SBRY) were two of the biggest fallers for the day on the blue-chip index after decent gains on Wednesday, down 1.7% to 1,480p and 1.6% to 276.3p respectively.
Morrisons (MRW) (down 1.7%), Ocado (OCDO) (1.9%), WH Smith (SMWH) (1.4%), PZ Cussons (PZC) (1.9%) were all affected by the softening of markets, as were Tesco (TSCO), Unilever (ULVR), Britvic (BVIC) and Diageo (DGE).