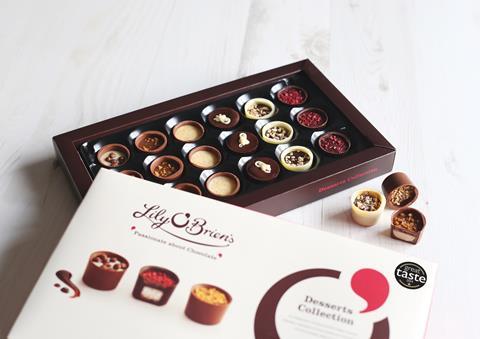 Top story
Irish chocolatier Lily O'Brien's has been put up for sale by its private equity owner with a price tag of €50m (£45m), The Grocer can reveal.
Carlyle Cardinal Ireland - a joint venture between US private equity group Carlyle and Dublin-based Cardinal Capital - acquired a majority stake in the premium brand for about €15m in early 2014, with founder Mary Ann O'Brien retaining a significant minority holding.
The business, established in 1992, has grown rapidly in the past three years thanks to increased exports to the UK - its core market - US and Australia. Turnover is up from about €20m at the time of the deal to more than €30m in 2016.
Irish bank IBI Corporate Finance has been appointed to find a buyer for Lily O'Brien's, with mid-market private-equity firms such as LDC, Bridgepoint, NorthEdge, Sun European Partners, Endless and Mayfair Equity Partners are expected to be the most likely home for the business.­
Click here to read the full exclusive story.
Morning update
UK consumer confidence has decreased for once more and hit post-Brexit lows of July 2016, according to GfK's Consumer Confidence Index.
The overall index fell a further two points in July to -12 as four of the five measures decreased during the month.
The measure for the General Economic Situation of the country during the last 12 months has decreased six points to -31, which is six points lower than July 2016. Expectations for the General Economic Situation over the next 12 months dropped five points to -28.
The index measuring changes in personal finances during the last 12 months has decreased by one point this month to -2, while the forecast for personal finances over the next 12 months has increased two points this month to +2.
Joe Staton, Head of Market Dynamics at GfK, said: "The economic picture across the UK remains confusing and this mood is reflected in the Overall Index Score, which is down by five points. It's the sharp drop in confidence about the UK's general economy – both looking back one year and ahead one year – that is driving the fall.
"All bets must now be on a further drift downwards in confidence. Yes, employment is booming, but wages have fallen in real terms since 2008 once inflation is taken into account. And while consumers have increased borrowing to carry on spending, the household savings ratio is now at a record low. If Brexit negotiations continue to deliver more questions than answers, it's unlikely the overall Index score will find any tailwinds for some time."
On the markets this morning, the FTSE 100 has opened 0.4% down at 7,410.8pts after the Asian market eased back and falls amongst US tech stocks.
Most major grocery stocks are easing back, with Tate & Lyle (TATE) down 1% to 673p, Reckitt Benckiser (RB) down another 1% to 7,380 and Morrisons (MRW) and Tesco (TSCO), down by 1% to 241.9p and 0.9% to 174.2p respectively.
The exception is Diageo, which has risen another 1.4% to 2,453p and hit another all-time share price high in the process.
Other movers include McColl's Retail Group (MCLS), up 2.2% to 219.8p, Majestic Wine (WINE), up 2.1% to 322.8p, Just Eat (JE), down 2.5% to 654.5p and Greencore (GNC), down 2% to 230.5p.
Yesterday in the City
A hectic day in the City amid a rush of market announcements before the August break saw the FTSE end the day 0.1% down at 7,443pts.
Diageo (DGE) was the day's standout performer, rising 6% to 2408.5p to top the FTSE 100 risers and hit a record share price high during the day after exceeding both full-year organic growth and earnings expectations.
Of the other firms to issue market announcements yesterday (see yesterday's City Snapshot), Tate & Lyle was up 1.1% to 680p, Britivic (BVIC) edged up 0.2% to 713p, British American Tobacco (BATS) was flat at 5,322p and Greencore fell 0.7% to 232p.
The worst performer of those issuing updates to the market was Just Eat, which slumped 5.6% to 671p despite reporting sales and order growth ahead of management expectations.
Notably risers during the day included Ocado (OCDO), up 2.1% to 306.3p, Greggs (GRG), up 1.5% to 1,119p, Associated British Foods (ABF), up 1.4% to 2,983p and Coca-Cola HBC (CCH), up 1.4% to 2,281p.
Fallers included Reckitt Benckiser (RB), down 1.2% to 7,456p and Compass Group (CPG), down 0.8% to 1,614p.
Internationally, Nestle fell 1% to CHF81.55 after issuing first half organic sales growth below expectations and predicting full year sales growth would be at the bottom end of previous forecasts.
Danone (BN) was up 0.5% to €64.75 after beating analyst earning expectations despite weak sales growth.
P&G (PG) jumped 1.5% to $90.68 after defying the recent US consumer goods gloom and posting 2% organic growth.