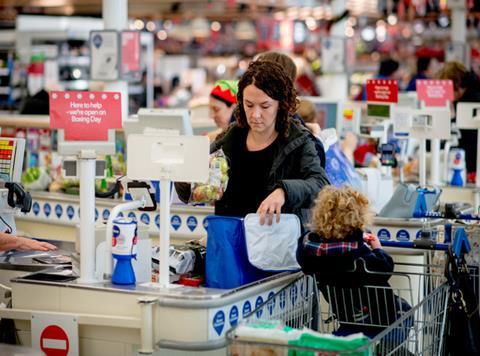 Top story
Take-home grocery sales rose by their highest level since 1994 over the past 12-weeks, however grocery sales growth began to slow last month as shoppers gradually return to their pre-lockdown behaviours.
The latest grocery market share figures from Kantar show take-home grocery sales rose by 16.9% to £31.6bn during the 12 weeks to 12 July 2020, the fastest growth rate since 1994.
However, as lockdown restrictions are gradually eased and non-essential retail outlets re-open, year-on-year supermarket sales growth decelerated in the most recent four weeks to 14.6%, down from 18.9% in June.
Footfall remained 15% lower during the past four weeks and the average spend on a supermarket trip was £25.05, 35% more than the same period last year, as most people continue to eat more meals and snacks at home.
Every supermarket was in sales growth in the period, with Morrisons the pick of the big four as its 12-week sales rose 17.4%.
Tesco was up 15.1%, Sainsbury's up 13.5% and Asda up 11%.
Once more that meant three of the big four were growing at a faster rate than Aldi, which was up 13%, while Lidl was up 17.3%.
Ocado posted the highest growth of 45.5%, with Iceland the biggest gainer of physical retailers up 34.1% and the Co-op up 30.6%.
There are signs that shoppers might be growing more confident and travelling further afield for their weekly shop. Kantar head of retail and consumer insight Fraser McKevitt explained: "Convenience stores were a lifeline for many people in the early days of the crisis, providing essential supplies close to home. Sales from these types of stores are still up by more than a quarter year on year, but they attracted 2.6 million fewer shoppers through their doors than at the peak of lockdown in April."
The growth in online grocery sales continues and increased to 92% this month, marginally higher than the previous four weeks. McKevitt commented: "Although restrictions have eased, more than one in five households still made an online order during the latest four weeks. The channel now accounts for 13.0% of all grocery sales in Great Britain, which is up from 7.4% in March and reflects a significant increase in capacity by the grocers."
Promotional activity at the grocers picked up in the latest four weeks, with 29% of sales including some type of discount. "Promotional levels are still behind the pre-crisis level of 31% but, particularly given that the 2008 recession led to shoppers seeking out more discounts, we expect the grocers to bring in more enticing offers to attract cash-strapped shoppers in the months ahead," McKevitt said.
Grocery inflation now stands at 3.6% for the 12 week period ending 12 July 2020, with prices are rising fastest in markets such as ambient cooking sauces, fresh bacon and canned colas while falling in fresh poultry, butter and bread.
Meanwhile, Nielsen found the online share of sales accounted for 14% of all grocery spend in the UK in the last four weeks ending 11th July 2020.
This is up from the 13% share recorded in the previous four weeks, and 10% share from May 2020, and is the highest figure for UK grocery spend online to date.
Nielsen data shows that online sales in the last four weeks ending 11th July grew by 115% compared to the same period last year. Overall total till sales growth slowed to 10% as the UK exited the lockdown period.
In the last four weeks ending 11th July, there was significant growth in the alcohol categories, with sales of beers, wines and spirits up by 31%, whilst frozen grew by 19% and meat fish and poultry saw a rise in sales by 15%². All of this was helped by the heatwave, encouraging shoppers to eat outside, have a BBQ and enjoy the weather.
Looking at the last 16 weeks, the full lockdown period in the UK, Nielsen data shows that UK shoppers spent a total of £49 billion on groceries, tobacco and general merchandise. This represents an extra £3.2 billion at UK supermarkets overall when compared to the same period last year.
Over the last 12 weeks, Morrisons (sales growth of 15%) was the best performing of the 'big four' retailers. Iceland (+30.4%) and Co-op (+13.9%) also continued to perform well, as shoppers focussed on purchasing frozen food and preferred to shop at local and convenience stores.
As demand for groceries returns to normal levels, Nielsen data shows that promotional spend is slowly increasing in recent weeks. This now accounts for 20% of all spend, up from 16% at the start of lockdown. However, this is yet to reach the same levels as the same time last year (27%).
Mike Watkins, Nielsen's UK head of retailer and business insight, said: "The lockdown was a period of planned, precise and predictable spend, as shoppers focussed on stocking up on the necessities - often buying more than was essential to ensure against any perceived threat of shortage or inability to go shopping. Following the reopening of pubs and restaurants on 3rd July, the economy is now fully open for business and we are waiting to see how shopping behaviour will evolve."
Watkins continued: "Though restaurants and pubs have reopened, we expect grocery sales to continue growing, as there remains a degree of caution when it comes to dining out.
"Yet, we must be aware of the looming recession - this could place a lot of strain on consumers and where they focus their spend. With consumer confidence down 18 points in Q2 of 2020 and only 24% of consumers feeling positive about their job prospects, retailers must be aware of the changing circumstances of customers."
Morning update
Spirits maker Rémy Cointreau said its first quarter performance was better than expected, despite sales in the period slumping by a third.
In the period from April to June the French group said its sales totalled €150.1m, down 32.8% on a reported basis and down 33.2% on an organic basis.
It said the beginning of this financial year was significantly affected by the global COVID-19 pandemic, the main impact of which has been the closure of the on-trade channel in numerous markets and a slump in global air traffic.
However, thanks to resilient consumption of spirits in the United States and the UK, the group was able to post slightly higher than expected sales, it said.
Sales at the House of Rémy Martin declined 39.2% in the first quarter amid destocking in most major markets and a slump in duty-free sales.
The Liqueurs & Spirits division proved more resilient (down 17.0%) thanks to a "remarkable" performance by Cointreau – which was up slightly over the period on an organic basis thanks to growth in the United States, Germany and the UK, where consumption of cocktails at home made up for the closure of the on-trade channel.
In a still uncertain public health, economic and geopolitical environment, Rémy Cointreau said it remains confident of its ability to emerge stronger from the crisis.
Following this better than expected first quarter and (unchanged) expectations of a moderate decline in the second quarter, Rémy Cointreau now expects current operating profit to be down 35-40% on an organic basis in the first half of financial year 2020/21 (compared with previous expectations of a 45-50% decline).
"Despite low visibility, the second half of 2020/21 should see a strong recovery, buoyed by the United States and Mainland China," it stated.
On the markets this morning, the FTSE 100 has opened the day back up 0.5% to 6,291.2pts.
Risers included McColl's Retail Group, up 5.1% to 38.4p, Coca-Cola European Partners, up 4% to €35.52, and SSP Group, up 3.7% to 241.8p.
Fallers so far today include Bakkavor, up 4.5% to 70.7p, Hotel Chocolat, up 3.5% to 280p and Science in Sport, up 2.4% to 33.2p.
Yesterday in the City
The FTSE 100 started the week by closing down 0.5% to 6,261.5pts.
The day's fallers included McColl's Retail Group. Down 9.2% to 36.5p, Premier Foods, down 8.9% to 85.5p, SSP Group, down 5.1% to 233.2p, Hotel Chocolat, down 3.3% to 290p and British American Tobacco, down 2.9% to 2,705.5p.
The day's risers included Bakkavor, up 6.8% to 74p, Applegreen, up 3% to 345p and B&M European Value Retail, up 1.6% to 445p.