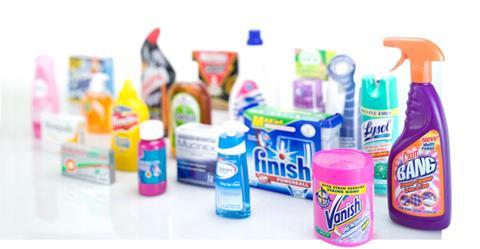 Top story
Dettol and Durex maker Reckitt Benckiser (RB) has warned its sales have been hit by the global cyber attack that struck companies across the world last month.
The consumer goods giant said in an update to shareholders this morning that like-for-like revenues for the second quarter of 2017 will be 2% lower than a year ago – and flat excluding the impact of the cyber attack.
Reckitt revealed that the ransomware attack on 27 June had disrupted its ability to manufacture and distribute products to customers in multiple markets across the group.
"Consequently, we were unable to ship and invoice some orders to customers prior to the close of the quarter," the business said. "Some of our factories are currently still not operating normally but plans are in place to return to full operation."
It added that the issue had been "materially contained" and that systems at baby formula maker Mead Johnson, which was recently acquired for $17bn, had not been impacted by the attack.
"We expect that some of the revenue lost from Q2 will be recovered in Q3," Reckitt said. "However, the continued production difficulties in some factories mean that we also expect to lose some further revenue permanently."
The group downgraded its full-year revenue forecasts and now expects like-for-like growth of 2%, compared with 3% previously.
Reckitt also said it had taken a hit from India's new Goods and Services Tax (GST), although to a "lesser extent". It added the new tax had resulted in reduced orders from some customers during June.
Shares slumped 1.5% to 7,588p as markets digested the news this morning.
Morning update
Associated British Foods (ABF) has reported a stronger-than-expected set of results for the third quarter, boosted by a continued strong performance by the sugar division and demand for its low-cost fashion in Primark.
Revenues increased 13% in the three months to 24 June, excluding the benefits of currency translation, and by 20% when including favourable exchange movements. ABF has enjoyed a considerable boost since the Brexit vote caused the value of the pound to collapse thanks to its global business.
"The underlying operating performance of the group during the third quarter was ahead of our forecast as a result of a stronger profit delivery from Primark which has marginally improved our group outlook for the full year," ABF said this morning.
Group revenue for the first 40 weeks of the financial year was 10% ahead of the same period last year at constant currency and 20% ahead at actual exchange rates.
Revenue growth for AB Sugar remained strong in the third quarter with the continuing benefit of higher prices and increased production from Illovo in Africa. "Whilst world prices have recently fallen below last year's level, this will have little impact on the current financial year with most sales contracts in the EU already committed," ABF added.
The grocery businesses also achieved further revenue growth in the quarter with continued progress for Twinings and Ovaltine. However, the commoditised bread category in the UK continued to remain "very competitive", which, combined with inflationary cost pressures in bakery, has had a negative impact on grocery margins, ABF warned.
Sales at Primark in the year to date are 13% ahead of last year at constant currency driven by increased retail selling space and growth in like-for-like sales. Primark was boosted by strong trading in the run up to Easter and benefitted from poor comparatives from a year ago when the performance was hit by bad weather and an earlier holiday period.
Shares in ABF soard more than 5% to 3,076p this morning.
Cider manufacturer C&C Group (CCR) warned this morning in a trading update that UK volumes were behind targets. The Magners and Bulmers producer expected volumes to normalise through the key summer trading months as the group continued to struggle in a competitive cider category. C&C added in the update covering from March to 6 July that the group would also be hit by currency movements resulted from the devalued pound.
"Underlying trading to date, across core markets, is satisfactory and in line with our expectations," the group said. "C&C will be better placed to assess recent brand and NPD investment in Ireland and the new ABI partnership following the key trading months of July and August."
It added that the "complex" transition of Magners and our other cider brands to AB InBev was on track with minimal customer disruption.
Shares in the group slumped 2.2% to €3.13 as markets opened.
Just Eat (JE) has appointed Peter Plumb to fill the management void at the takeaway group. He takes charge of the group just two months after stepping down as boss of Moneysupermarket. Plumb led price comparison group for eight years until this May, overseeing the acquisition of MoneySavingExpert.com and a six-fold increase in its share price during his time as CEO. Prior to Moneysupermarket.com, Plumb was UK MD of Dunnhumby, general manager Europe of Disney Consumer Products and international director of Dyson Appliances. He is also a non-executive director of The Co-operative Group.
Just Eat has been without a permanent leadership team for much of the year, after former chief executive David Buttress stepped down because of "urgent family matters" and chairman John Hughes died after a short illness.
Plumb will replace Paul Harrison who has fulfilled the CEO role on an interim basis. Harrison will continue in his permanent role as CFO.
Shares in Just Eat are up 0.5% to 676p on the news.
Interim chairman Andrew Griffith said: "Peter has an excellent track record of creating value for shareholders in high growth consumer digital businesses. His passion for customers and innovation, as well as his international experience in driving brands, and proven capability to retain, deepen and build senior management teams, made him a standout choice for the board. Just Eat is the leading company in its sector and Peter's expertise will ensure we continue to build on this platform.
"I would also like to express the board's appreciation of Paul Harrison, our chief financial officer and interim chief executive officer, who has ensured that the company has maintained its positive trajectory during the interim period. Working alongside Peter, Paul will have a broad and growing role within the business and together they will provide outstanding leadership to Just Eat."
Plumb added: "I'm delighted to be joining Just Eat at such an exciting time. The talented team has built an innovative service into a truly international platform with clear leadership positions in many markets around the world. I look forward to working with the Just Eat family of employees and restaurant owners to help more people around the world enjoy the food they love, wherever they are and whenever they want."
Listed forecourt operator Applegreen (APGN) has agreed to acquire the trade and certain assets of Bob Brandi Inc and Bob Brandi Stores Inc (the Brandi Group), a forecourt retail operation based in South Carolina in the US. Applegreen will pay $5.4m for the Brandi Group and a US institutional real estate investor will acquire property assets of the business for $70.1m. Once the transaction completes, Applegreen will enter into a long-term agreement with the real estate investor to lease the property assets.
Brandi Group, which currently generates an adjusted EBITDA of about $3m, is made up of a total of 42 sites located in or close to the city of Columbia, the state capital of South Carolina. More than 30 of the sites are petrol filling stations that incorporate 11 Burger King restaurants and a number of other food offers, including Subway and Blimpie. In addition, the business operates eight stand-alone Burger King sites.
The current owner has committed to working with the existing management team for the first 12 months to ensure an orderly transition of operations to Applegreen.
Applegreen CEO Bob Etchingham said: "We are delighted to announce our first major acquisition in the US which represents a significant milestone for our business. We consider the Brandi Group to be an excellent fit for our business given the attraction and convenience of its locations centred in the city of Columbia together with the significant component of food-to-go offers that exists within the estate.
"We believe that this acquisition represents an opportunity to establish a significant presence in this market while also providing the potential for us to leverage our retail experience in this sector to enhance the current offering. It also represents an ideal platform from which to further pursue our strategy for growth along the East Coast of the US."
Grocery tech firm Eagle Eye (EYE) has signed a renewed two-year contract with Asda. The supermarket originally signed up with Eagle Eye to use its AIR platform in 2015 in its UK stores. The platform enables the digital counting and reconciliation of own brand and supplier brand coupons at point of sale across the Asda estate, which Eagle Eye said improved fraud prevention and operational efficiency. The contract will continue to provide Asda with the ability to deliver real-time issuance and redemption of coupons and vouchers for Asda-specific campaigns.
Eagle Eye CEO Tim Mason said: "We are delighted to be renewing our contract with Asda and Toshiba Global Commerce Solutions. We have worked closely with them over the past two years to deliver a valuable and innovative solution that enables Asda to operate much more efficiently. This renewal reflects the solid relationship we have with Toshiba Global Commerce Solutions and is further confirmation that Asda are experiencing great value through the platform and the benefits it delivers."
Eagle Eye operates as a sub-contractor of Toshiba Global Commerce Solutions.
Yesterday in the City
Ocado (OCDO) managed to keep its head above water yesterday despite mixed results. Shares rose 0.7% to 291.5p as the online grocer reported a double-digit rise in sales and CEO Tim Steiner brushed aside competition fears in the wake of Amazon's move for Whole Foods. However, profits tumbled, basket size shrank and the net debt grew considerably in the half.
Booker (BOK) was one of the day's strongest movers, jumping 3.5% to 190.7p, thanks to a strong first quarter. The wholesaler revealed a like-for-like sales increase of more than 4% - and almost 10% excluding tobacco – as late Easter and favourable weather boosted its performance.
Tesco (TSCO) was a beneficiary of a good few months for Booker as the supermarket, which is in the midst of a £3.7bn takeover of the wholesaler, rose 3.8% to 173.5p.
Morrisons (MRW) was also up 1.4% to 240p and Sainsbury's (SBRY) continued its good week by moving another 0.9% higher to 251.9p.
The FTSE 100 clung on to positive territory despite disappointing data fuelling fears that Britain's economy is struggling to gain momentum. Growth in the service sector slowed to a four-month low in June, with companies blaming political uncertainty created by the general election and Brexit. The blue-chip index was up 0.1% to 7,367.60 points.