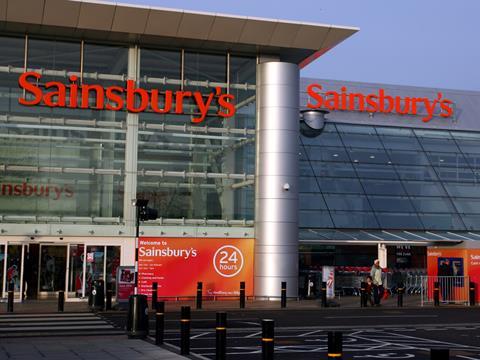 Top story
Sainsbury's (SBRY) like-for-like sales have fallen by 2.1% during the 12 weeks to 6 June.
The fall was largely in line with analysts' expectations of a 2-2.5% drop during the period. Total retail sales were down 0.6% excluding fuel and 2.3% including fuel.
Chief executive Mike Coupe pointed to food deflation and a "highly competitive pricing backdrop" as key contributors to the sales fall.
Coupe said: "These pressures, including the effect of our own targeted price investment, have led to a fall in like-for-like sales for the quarter."
However, he said he was "encouraged" by some of the early trends that Sainsbury's has seen in its key trading and operational metrics.
"Volume and transactions continue to grow as customers are benefiting from our improved value and further investments in quality. We have simplified our promotional offer which has reduced promotional participation further, helping to lower waste and give customers even better levels of availability. We committed to deliver our cost savings programme without impacting the customer experience."
Coupe also committed to rolling out its online clothing sales nationwide. Clothing grew by over 5% during the quarter. Convenience remains in "double-digit growth" it opened ten convenience stores during the quarter.
Coupe added: "Despite the challenging market conditions, we are confident that we are building on strong foundations and making good progress with our strategy. We continue to invest in our broad range of products and services and our multiple channels to market. These areas represent strong future growth opportunities and contribute towards our resilience in the current trading environment."
Morning update
Sainsbury's shares have leapt 4% this morning to 258.9p after its like-for-like sales fall came in at the better end of market expectations.
Meanwhile, UK-listed African agriculture firm Zambeef has reported a 6.8% fall in first half revenues to US$130.7m. However, gross profit was up 9.2% to $50.1m and EBITDA increased by 36.3% to $11.6m. The completed the sale of soybean crushing and oil refining subsidiary Zamanita to Cargill earlier this month.
Chairman Jacob Mwanza, said: "Operating in some of the fastest growing parts of the world, where both populations are increasing and real incomes growing rapidly, Zambeef has a clear intention to be an important player in meeting this increased demand for food products. Our strong platform now enables Zambeef to focus on driving the core business, the retailing of cold chain meat and dairy products delivered through the Group's extensive processing, distribution and retail network."
Yesterday in the City
Shares in Poundland (PLND) fell to their lowest price since the discount chain floated in March 2014 on the back of a downgrade from its house broker yesterday.
Shore Capital revised its figures on a "cautionary basis" for the 2015-16 financial year in the face of a sterling's continuing strength against the euro in the first quarter and tough comparatives. Poundland's stock fell 2% throughout the day to 294p after hitting a month-long high of 305p on opening.
Sainsbury's was up 0.7% to 249p ahead of this morning's quarterly trading update and Diageo edged up another 0.4% to 1,887.5p on rumours of interest from 3G Capital.
Elsewhere it was largely a downbeat day for the City, with the FTSE 100 falling to a three month low of 6753.8pts on continuing concerns over Greece's debt negotiations.
Grocery stocks weren't amongst the major fallers – the biggest drops included Associated British Foods falling 0.9% to 2,914p and Morrisons dropping 0.8% to 171.4p.