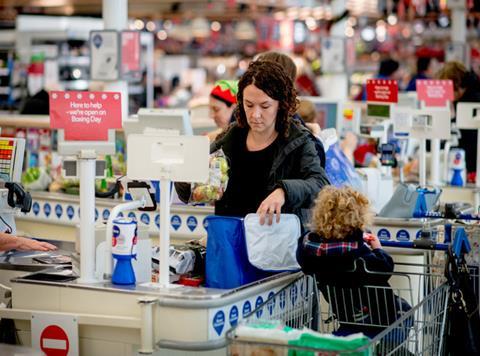 Top story
Tesco (TSCO) has declared its turnaround "firmly on track" after positing a 27.3% jump in group operating profit before exceptional items and its seventh consecutive quarter of sales growth.
Total group sales were up 3.3% to £25.2bn in the first six months of 2017, with UK like-for-like sales up 2.2% in the period.
Group operating profit before exceptional items rose 27.3% to £759m, with the UK & ROI up 21.1% to £471m. Group operating margins rose to 2.7% from 2.2% last year and Tesco said it is on track for 3.5-4.0% ambition by 2019/20.
The overall 3.3% sales growth was boosted by a 2.6% foreign exchange translation benefit due to the weakness of sterling as group sales were up a more modest 0.7% at constant exchange rates and displayed like-for-like growth of 0.8%.
The UK sales growth was largely driven by inflationary price increases, with transactions up 0.4% and volumes up 0.3%.
Tesco said the UK market continued to be "challenging with inflationary pressure being felt throughout the half". But it said it has worked with suppliers to minimise price increases, with its overall sales inflation in the half around 1% less than the rest of the market.
The supermarket saw fresh food volume growth of 1.5% in the UK as investments in its offer drove increased sales. Its own-label ranges have performed well, with sales growing 4.6% year-on-year
In the second quarter UK like-for-like sales were up 2.1% - a slight slowdown on the 2.3% growth posted in the first quarter of the year.
It reported UK like-for-like growth across all of its formats, with large stores growing at 1.6% and online grocery sales up 4.6% in the half.
In the Republic of Ireland, like-for-like sales grew by 1.1% improving steadily throughout the half. In Central Europe, like-for-like sales grew by 0.1%, but overall sales reduced by 0.9% at constant exchange rates, while in Asia overall sales dropped 6% at constant exchange rates with like-for-like sales down 8.3%.
Statutory operating profits was up 67.4% to £885m from £515m and statutory profit before tax jumped almost 700% from £71m to £562m.
COE Dave Lewis commented: "We are continuing to make strong progress. Sales are up, profits are up, cash generation continues to strengthen and net debt levels are less than half what they were when we started our turnaround three years ago.
"All of this is possible because of the focus we have placed on serving shoppers a little better every day. Our offer is more competitive and more customers are shopping at Tesco.
"Today's announcement that we are resuming our dividend reflects our confidence that we can build on our strong performance to date and in doing so, create long-term, sustainable value for all of our stakeholders."
Tesco committed to pay a 1p dividend per share, having not paid a dividend since 2014.
Looking forward, Tesco said it remained "firmly on track" to reduce our costs by £1.5bn, generate £9bn of retail cash from operations and improve operating margins to between 3.5% and 4.0% by 2019/20.
Capital expenditure in the current year is now expected to be £1.1bn and will be between £1.1bn and £1.4bn each year in the future.
The CMA's provisional findings into its proposed merger with Booker (BOK) are expected to be made public by the end of October ahead of a final report by the end of the year.
Tesco shares are up 1.6% on the strong results to 193.1p.
Morning update
McColl's Retail Group (MCLS) has announced that co-founder and current non exec director James Lancaster has stepped down from the board with immediate effect.
Angus Porter, Chairman of the Board, said: "On behalf of the Board, I want to thank James for his enormous contribution to McColl's over the years. Under his direction and guidance, he has helped grow McColl's into one of the largest independent neighbourhood retailers in the UK. We wish him all the best with his future endeavours."
Lancaster added: "I am extremely proud of the business I co-founded over 40 years ago, but it is now the right time for me to stand down. I have every confidence that under the stewardship of the Board, and in the capable hands of Jonathan Miller and his superb management team, McColl's will continue to thrive. I wish the Group all the best for the future."
On the markets this morning, the FTSE 100 has edged up 0.1% to 7,474.6pts.
Other than Tesco, early risers include Total Produce (TOT), up 1.7% to 206p, Devro (DVO), up 1.5% to 242.5p and Glanbia (GLB), up 1.3% to €16.20.
Fallers so far include Greene King (GNK), down 3.3% to 530.9p, Marston's (MARS), down 3% to 105.3p, Crawshaw Group (CRAW), down 1.5% to 16.5p and Premier Foods (PFD), down 1.2% to 40p.
McColl's shares are up 0.6% at 290.3p this morning.
Yesterday in the City
The FTSE 100 had another solid day rising 0.4% up to 7,468.1pts.
Sainsbury's (SBRY) was one of the index's major risers, climbing 3.3% to 247.5p after broker Berenberg initiated coverage of supermarket with a "buy" recommendation despite identifying intensifying competitive and cost pressures in the sector.
There were some strong performances elsewhere in the retail sector, with Tesco up 1.8% ahead of its interim results this morning. Ocado (OCDO) rose 1.6% to 299.7p yesterday and Booker Group was up 1.2% to 208.2p.
Greencore (GNC) bounced back from 7%-plus share price plunge on Monday related to a sandwich recall in the US by clawing back 2.8% yesterday to end the day at 187p.
Greggs was up 1.4% to 1,267p after posting an 8.6% rise in total sales for the 13 weeks to 30 September, driven by strong like-for-like growth and new store openings.
Other risers included Associated British Foods (ABF), up 1.8% to 3,266p, Real Good Food (RGD), up 4.4% to 24p and C&C Group (CCR), up 1.9% to €3.10.
Britvic (BVIC), which announced it is to close its factory in Norwich, rose 0.4% to 753.5p, while factory co-owner Unilever (ULVR) – which produces Colman's mustard at the plant – fell 0.4% to 4,361p as it also announced it is to review operations at the facility.
Coca-Cola HBC (CCH) dropped 1.4% to 2,521 after announcing the death of its CEO Dimitris Lois.
Other fallers included Majestic WINE (WINE), down 2.9% to 341.8p, Patisserie Holdings (CAKE), down 3.6% to 342.3p and PureCircle (PURE), down 2.1% to 465p.