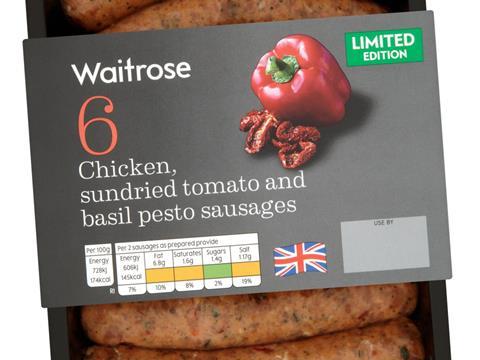 Top story
Sales at Waitrose soared 6% to £132.2m in the 22nd week of its current financial year. Commercial director Mark Williamson said the increase in the week ended 4 July was driven by "summer sunshine, British sporting heroics and US Independence Day parties".
The latest weekly figures put the group 0.9% ahead when compared with the first 22 weeks of the previous year.
"The growing number of myWaitrose customers signing up to the 'Pick Your Own Offers' scheme, in a week featuring the sun-drenched British Grand Prix, Wimbledon's battling Brits and the inspirational England women's football team, helped deliver an encouraging performance," Williamson added.
Champagne sales stayed strong in the week, Pimm's jumped 137%, rosé wine leapt 43% and gin increased by 34%. Mixers were also up 67% and Waitrose said it saw record-breaking beer sales, with bottled beer up 47%.
The hot weather – along with promotional activity – contributed to strong gains for BBQ foods, with Waitrose Aberdeen Angus mini beef burgers up 136%, essential Waitrose sirloin steaks up 115% and sausage sales growing 14%.
Morning update
Stevia producer PureCircle has appointed two former Pepsi and Coke directors to its board as non-executive directors. Mitch Adamek retired from PepsiCo in 2011 after 22 years in procurement and human resources roles. He is currently a non-executive director of US poultry producer Wayne Farms and sits on its compensation committee. Guy Wollaert has recently stepped down as a senior vice president and chief technical and innovation officer of The Coca-Cola Company after a 23-year career.
Yesterday in the City
Drinks mixer supplier Fever-Tree (FEVR) continued its march yesterday with another 6% jump in its share price to 334.8p. That is on top of the 9% rise on Wednesday – after it announced a 61% rise in first half sales and upgraded full-year guidance – adding £28.7m to its market value in two days up to £385.9m.
Associated British Foods (ABF) was another high flyer with its stock up 5.2% to 3,082.5p as it expands its Primark empire into Italy. Total sales were up 2% in the 40 weeks to 20 June – but flat after currency headwinds – with the sugar business still giving ABF headaches.
Booker (BOK) was also up 1.7% to 163.1p after falling 3.6% on Wednesday on the back of a Q1 trading update reporting total sales growing by 0.2% and non-tobacco like-for-likes (including Makro) rising by 1% in the 12 weeks to 19 June.
After misery on Wednesday for retailers following the Budget and the living wage, with millions wiped off market values, Morrisons (MRW) is back up 2% to 170.8p, Poundland (PLND) was up 2% to 336p and Tesco (TSCO) climbed 2% to 206p.
The FTSE 100 index also finished 90 points higher (1.4%) to 6,581.6 on a generally good day for grocery and fmcg stocks as a glimmer of hope in Greece with reform proposals and a possible debt deal in the offing.