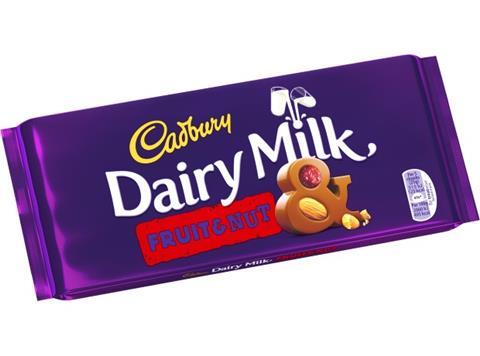 Top story
Cadbury owner Mondelez (MDLZ) has posted a 13.5% drop in full year revenues as currency movements, divestments and cost savings hit reported sales.
Full year net revenues were down 13.5% to $29.6bn, including a 12.6 percentage point impact from currency and a 5.4% impact from the sale of its coffee business. Fourth quarter net revenues were down 16.6% to $7.4bn.
Operating income was $8.9 billion, up 174.4 percent, including a $6.8 billion pre-tax gain from the coffee transaction and a $778 million one-time charge for a change in accounting for the Venezuela operations.
Full year sales in Europe fell 24.3% to $10.5bn. Overall developed markets sales were down 15.2% and emerging markets were down 10.6%.
However, operating income was up 174.4% to $8.9bn, including a $6.8bn pre-tax gain from the coffee transaction.
Full-year gross profit was down 8.6% to $11.5bn, but adjusted gross profit margin was up 230 basis points to 38.9%.
Irene Rosenfeld, chairman and CEO said: "Our aggressive cost-savings programs drove significant margin expansion. In addition, we increased our marketing investments, enabling us to steadily accelerate organic revenue growth and improve our share performance as the year progressed."
"We remain confident in our ability to execute our transformation agenda despite weakening macroeconomic conditions in emerging markets. As a result, in 2016, we expect to deliver another year of strong margin expansion and double-digit EPS growth on a constant currency basis by continuing to reduce supply chain and overhead costs."
Mondelez shares plunged 6.5% in the US last night to $39.23 on the bigger than expected sales drop.
Morning update
After a hectic Tuesday, which saw Sainbury's announce its provisional agreement to buy Home Retail and Ocado's full year results, the market has quietened down towards the end of the week with scant newsflow this morning.
Ratings agency Moody's has released a report this morning suggesting that pricing pressure is likely to "nibble" at UK packaged food suppliers' profits and margins in 2016.
However, it reassures investors that, although difficult trading conditions for packaged food suppliers in the UK will persist in 2016 as a result of the ongoing price war between food retailers, downgrades among suppliers are not a given "as their financial flexibility provides a degree of protection".
Catering business Compass Group has released a trading statement ahead of its AGM. Compass said it has had a strong first quarter, with organic revenue up by 5.9% for the first three months to 31 December 2015. "Our outlook for 2016 remains positive. Growth in North America is strong, Europe is improving, and we are managing the challenges in the rest of world region."
The FTSE 100 has recovered by 1.4% to 5,921pts this morning as banks and miners are enjoying a bounce this morning after a torrid 2016 so far.
Compass is up 5% to 1,233p on this morning's update.
Elsewhere, Premier Foods (PFD) has bounced back by 4.45 to 35.5p so far this morning, while Coca-Cola HBC (CCH) has dropped 4.1% to 1,342p and Marks & Spencer (MKS) is up 1.3% to 414.8p.
Yesterday in the City
The FTSE 100 plunged again yesterday, dropping 1.4% to 5,837.1pts as banks and the financial sector were particularly hard hit.
It was not a good day for the grocery sector either, with food retailers caught up in the sell-off.
Ocado (OCDO) dropped another 4.2% to 235p after a number of broker downgrades in the wake of its failure to boost its international revenues. Jefferies cut its price target to 265p and said that without signing international partnerships the shares would be worth less than 200p.
Sainsbury's (SBRY) was also fell foul of brokers yesterday, with Societe Generale downgrading the supermarket due to its "increased risk profile" after its provisional agreement to buy Argos. Sog Gen worried the "timing is inappropriate" and that Sainsbury's will lose its "pure play status". The shares dropped 2.5% to 2401.1p yesterday.
Tesco (TSCO) was down 1.6% to 168.3p and Morrisons (MRW) fell 2% to 169.8p.
Elsewhere, Diageo (DGE) dropped 1.9% to 1,860p and Unilever (ULVR) was 1.9% down to 3,000. Dairy Crest (DCG) fell 2.1% to 642p, Cranswick (CWK) lose 3.2% to 2,027p and Premier Foods was 4.9% down to 34p.