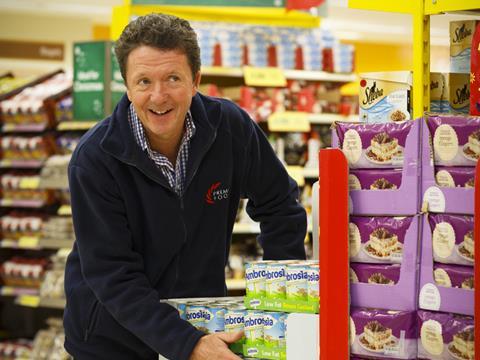 The shareholders have spoken. Gavin Darby has been re-elected as Premier Foods CEO… just. Despite an aggressive public campaign to oust him by second-largest shareholder Oasis, Darby has withstood immense pressure and lives to fight another day, winning the re-election vote by 59% to 41%. But he will be fully aware that the company needs to make improvements, and fast.
Premier announced this morning that sales were up 4.5% in the first six months of the year, albeit with growth slowing from 7% to 1.7% in the most recent quarter. If Premier can keep that up across the portfolio it will go some way towards satisfying restless shareholders. But this time last year Premier issued a profit warning, blaming hot summer weather – and on the back of an even hotter summer this year, Darby may struggle to keep Cup-a-Soup and gravy sales going up.
One bright light is the strong performance of soup and noodle mainstay Batchelors, easily Premier's star performer last year, but there is also a feeling that its success may have come at the expense of other parts of the business.
Nicola Mallard of Investec said that the business was battling against its large portfolio of disparate brands. "It's like spinning plates. You go and do something good on Batchelors and then Mr Kipling comes off the boil, so you have to dash back and spin that plate," she said.
So, while Batchelors gathers pace, it also announced today that branded grocery sales fell 1.5% in the most recent quarter, with just 0.2% growth across its grocery brands. Bisto and Loyd Grossman have lost all momentum.
While Darby has rejected most of Oasis' arguments, he can hardly disagree with the activist investors' desire to ensure improved growth across each of Premier's brands. Not only is broad growth obviously invaluable in Premier's mission to pay off debt, but it would also give the company more cards to play.
Earlier today the company reiterated that it is open to selling parts of the business to speed up the turnaround by shareholders. But apart from Batchelors, it's hard to find a brand in the business performing well enough to justify a decent valuation. Rumours spread in January that Nissin itself was interested in purchasing Batchelors, but this was quickly snuffed out.
Nissin's 19.56% stake drew the particular ire of Oasis, which claimed its intertwining partnership with Premier meant it should not even vote on Darby's future.
Had Nissin not voted, Darby would surely have faced an embarrassing departure, as excluding the soba noodle giant, shareholders looked to have predominantly opposed his re-election.
Resigned to another year under Darby's leadership, Oasis said his position was "saved by his cosy relationship" with the "conflicted shareholder". The Hong Kong hedge fund has highlighted that it remains a long-term shareholder but is "carefully considering its next steps" too. It says he has lost "credibility" over the last month – though Oasis arguably has too. It would be hard for any shareholder to deny that the public spat of daily aggressive press releases has not been embarrassing to watch. It's also been accused of 'gerrymandering' by Alex Brummer, city editor of the Daily Mail, after borrowing shares to bolster its voting position at the AGM, a practice normally used to 'short' stock.
Darby lives to fight another day, but will know he has to deliver on promises to improve growth (having abandoned earlier growth targets). This vote was not just about him. It was a protest vote that signalled a dissatisfaction in strategy and execution – and though Darby's patient approach to reducing debt has been working, it's been painfully slow progress. The challenges remain the same: to reinvigorate his portfolio of traditional brands whilst servicing pensions obligations and debt. He must find a faster way of doing it.