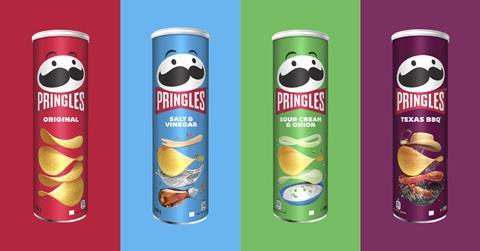 Kellogg's is set to split itself into three separate companies as part of a radical overhaul.
It plans to spin off its US, Canadian and Caribbean cereal businesses and, seperately, its plant-based operations, which together make up about 20% of its annual sales. The remaining business will be focused on global snacking, international cereal and noodles, as well as the North American frozen breakfast market.
Investors greeted the news enthusiastically with shares in Kellogg's – which have underperformed in recent years relative to rivals – surging 8% in pre-market trading ahead of the opening of the New York Stock Exchange.
Kellogg's said the three new independent companies, which will be named at a later date, would be better positioned to "unlock their full standalone potential".
Group chairman and CEO Steve Cahillane will continue to lead the global snacking company, which generated net sales of $11.4bn in 2021 and includes brands such as Pringles, Pop-Tarts, Nutri-Grain and Rice Krispies Treats.
The three international regions – Europe, Latin America & Asia Pacific, and Middle East & Africa – would remain "almost entirely intact" within the new snacking-focused company, including the international cereal operations, which generate less than a quarter of the $11.4bn net sales total.
The other two newly independent busineses will include the remaining North American cereal assets, which brings in sales of $2.4bn, and a $340m pureplay plant-based food company, anchored by the MorningStar Farms brand.
Kellogg's said it would also explore other strategic alternatives for the plant-based arm, including a potential sale.
The proposed management teams for the two new companies will be announced at a later date, with the spin-offs expected to be completed by the end of 2023.
Kellogg's has undergone a long transformation in recent years as consumers, particularly in the US, abandoned cereals in favour of on-the-go snacking or healthier alternatives.
The group has sold off a number of assets, including a $1.3bn disposal of its cookie business to Ferrero in 2019, and acquired brands in faster-growth categories, including US nutrition bar brand RX Bar.
"Kellogg has been on a successful journey of transformation to enhance performance and increase long-term shareowner value," Cahillane said.
"This has included reshaping our portfolio, and today's announcement is the next step in that transformation.
"These businesses all have significant standalone potential, and an enhanced focus will enable them to better direct their resources toward their distinct strategic priorities. In turn, each business is expected to create more value for all stakeholders, and each is well positioned to build a new era of innovation and growth."
Kellogg's shareholders will receive shares in the two spin-offs on a pro-rata basis relative to their holdings at the date for each split.
North America Cereal Co and Plant Co will both remain headquartered in Battle Creek, Michigan, while Global Snacking Co will maintain dual campuses in Battle Creek and Chicago. Kellogg's three international headquarters in Europe, Latin America, and AMEA will remain in their current locations.