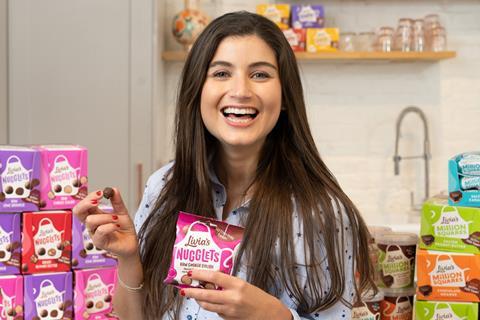 Livia's has smashed a £1m crowdfunding target.
The treats brand hit its target before its new Seedrs drive even went public after allowing interested parties to pre-register, and at the time of writing had netted £1.24m from 662 investors.
Notable investors who signed up before the drive was made widely available include industry heavyweights such as former Mars president Andy Weston-Webb, Vegetarian Butcher founder Jaap Korteweg and entrepreneur Michiel van Deursen.
The brand has offered up 9.89% of its equity for the fundraise, valuing the business at £11.3m.
Funds raised will go towards new product launches, developing its DTC platform, growing marketing and sales teams and scaling operations, Livia's said.
It added that by 2025 it would be distributed and sold throughout Europe, the Middle East, Asia and the US, with its range of treats "almost quadrupled".
Founder and CEO Olivia Wollenberg said she had "always wanted" to bring Livia's customers on board, and "now is the time for them to be involved in a more meaningful way".
"With this raise, we will be able to accelerate our growth in the UK and beyond while continuing to revolutionise sweet snacking through product innovation," she added.