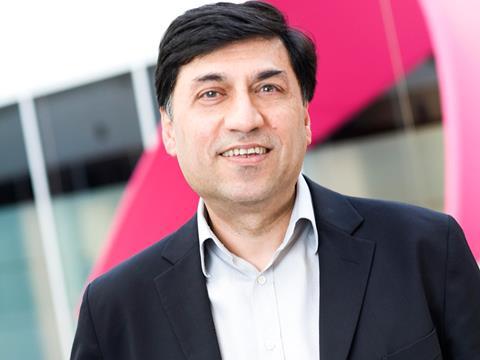 Reckitt Benckiser's $17.9bn acquisition of baby formula firm Mead Johnson comes under scrutiny in this weekend's papers. The Times writes on Saturday that the consumer goods giant hit back at suggestions that the deal to enter the baby milk market was a "desperate" attempt to revive its fortunes and reverse its weakest sales growth in more than a decade. CEO Rakesh Kapoor rejected suggestions the multibillion-dollar bid was simply an attempt to "buy growth" through acquisition.
The Sunday Times follows up with a report that Reckitt is facing a shareholder uprising over accusations the deal to buy Mead Johnson will guarantee Kapoor enormous future bonuses. A number of leading investors have raised concerns that the deal will make it too easy for Kapoor, who earned £23m last year, to collect his long-term bonus in full. He is in line for a windfall of more than £15m if he boosts earnings per share by 10% over the next three years.
A separate 'Agenda' article in The Sunday Times says the Reckitt board needs to "lose its tin ear on fat cat pay". "Mr Sheen shines umpteen things clean, according to its old advertising slogan," Iain Dey writes. "For years, Reckitt Benckiser, the consumer goods giant behind the furniture polish — and other familiar brands including Dettol and Durex — has been a place where bosses clean up. Its former chief executive, Bart Becht, famously made £92m in just one year."
Tesco is planning a major offensive in the online click-&-collect market following its acquisition of Booker, its boss Dave Lewis has told the City (The Mail on Sunday). The deal will more than double the number of locations for internet orders to almost 8,000 – forming a key part of the strategy that led to the proposed takeover.
Marks & Spencer has approached the architect of Next's transformation into one of Britain's top fashion retailers about a key role at the helm of its perennially struggling clothing division, according to Sky News. M&S has held talks with Christos Angelides, the former Next product director, about leading its latest attempt to turn round the department store's out-of-vogue fashion business, The Financial Times says in a follow-up. The Sunday Times calls the role "one of the most difficult jobs in retail" as CEO Steve Rowe tries to fashion a turnaround of the high street giant.
The online and mail-order fashion brand favoured by David Cameron and his wife Samantha has hired former Tesco executive Jill Easterbrook as its new boss, The Sunday Times reports. She started her career at Marks & Spencer and was most recently business transformation director at Tesco.
Inflation has jumped to a three-year high amid warnings that recent vegetable shortages would push up the cost of living further in the coming months, The Telegraph warns. Higher petrol and food prices lifted inflation to 2% in January compared with a year earlier, up from 1.6% in December, official figures are expected to show this week.
Sir Philip Green is facing a fresh attack from MPs this weekend who have named his Arcadia fashion group as a key target in a major crackdown on secretive private businesses (The Mail on Sunday). A report by the Work and Pensions Committee of MPs recommends that large private firms should be bound by some of the rules on governance and transparency affecting public companies in the wake of the BHS fiasco, The Mail on Sunday adds.
The Financial Times has a story this morning detailing the share structure at Ocado. It writes that top Ocado investors hold more than 100% of shares: "an unusual situation created by its main shareholders buying borrowed stock and effectively acquiring double rights to some holdings".
An olive oil shortage is coming, according to an interview in The Telegraph with Filippo Berio UK boss Walter Zanre, and it will be much worse than anyone realises, he says.
Finally, The Telegraph reports that up-market ready-meal producer Charlie Bigham's has appointed Patrick Cairns, who joins from Amsterdam-listed Wessanen to replace the successful Tom Allchurch, as CEO.