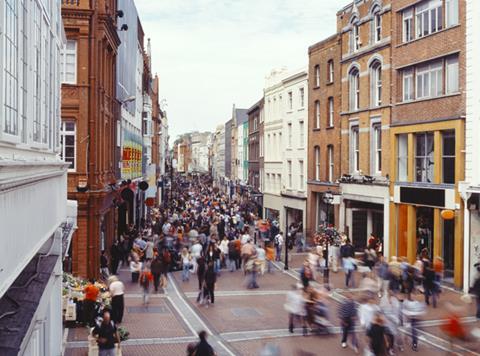 Retailers have welcomed a change in the way business rates are calculated, which will save them an estimated £210m over the next two years. After pressure from major high street names, the tax will switch from the retail price index (RPI) measure of inflation to the lower consumer price index (CPI) in 2018, two years earlier than expected, which the Treasury said the change would save British companies £2.3bn over the next five years. Helen Dickinson, the chief executive of the British Retail Consortium, said the move was "a hugely welcome and positive move". (The Guardian)
The FT notes there was nothing in the budget for farmers – writing "The NFU said it was "disappointed to see no meaningful measure to help prepare farming businesses for life outside the EU", although it conceded that the Budget appeared not to have "any adverse impact on our industry". (The Financial Times £)
The BBC looks at why white cider being taxed more than other drinks (The BBC).
The rest of this morning's budget coverage is a mixed bag for Hammond, with scepticism over the impact of his eye-catching announcement on the abolition of stamp duty for first time buyers (Sky News, The Telegraph) and worries over the OBR cutting GDP growth forecasts (The Guardian, The Telegraph). However The FT concludes "the UK chancellor has played his bad hand cleverly" (The Financial Times £).
Kate Swann, chief executive of SSP, served up what one analyst described as "the full picnic" yesterday as the transport caterer, whose brands include Upper Crust and Caffè Ritazza, reported strong full-year results, upped the ordinary dividend and announced a £100 million special dividend (The Times £). Shares in travel food retailer SSP Group soared after investor appetite was boosted by strong full-year results (The Daily Mail).
The Times' Tempus column suggests there is a buying opportunity for investors in Morrisons. It writes: "Now is the time to get in on a grocer whose management has not put a foot wrong as it has gone about turning round Morrisons over the past two years. There is a still a long way to go but the efforts made so far are clearly starting to pay off." (The Times £)
Substantial amounts of salt could be removed from food after the government's scientific advisers recommended that replacing it with potassium-based equivalents instead would improve public health. (The Guardian)
Britons are putting off major home appliance and furniture purchases and DIY projects, in the latest sign that household budgets are under pressure in the run-up to Christmas. (The Guardian)
US internet retailing has been growing and making inroads for two decades but the last year has spurred investors to make a decisive bet that some traditional retailers are doomed. So far this year, internet retailers have surged while the share prices of department stores have collapsed — even though retailing as a whole has fared well. (The Financial Times £)