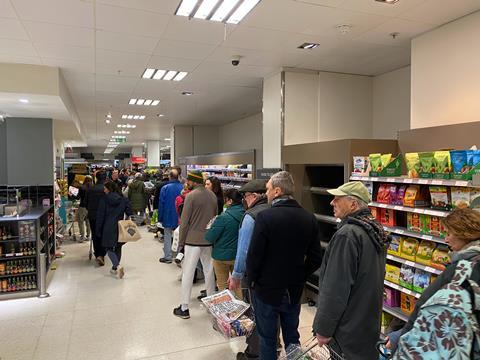 Supermarkets are under mounting pressure to pay back £3 billion in business rates after a leading retail entrepreneur questioned why their bills had been waived while customers queued "around the block" to shop. (The Times £)
Sales at UK supermarket group Iceland surged more than a fifth in the six months to September as consumers rediscovered frozen food and local shops during the peak of the coronavirus pandemic. (The Financial Times £)
Deliveroo has added another Wall Street titan to the advisory line-up preparing to take the food delivery app public in London next year. (Sky News)
The owner of Primark has scrapped its final dividend after annual profit tumbled by 40% because of the spring lockdowns (The Times £). Primark owner Associated British Foods saw its profits slump 40 per cent in the last year and lost £2billion worth of sales amid enforced temporary store closures triggered by the pandemic (The Daily Mail). Primark's inability to trade online during coronavirus lockdowns has prompted a 40% slump in its parent firm's annual profits (Sky News).
"Prudent Primark owner is right to keep hold of cash," writes The FT's Lombard column. "Primark owner ABF has a nice, plump balance sheet… Mr Weston is being prudent, though. Sales of sugar, bread and Twinings tea stood the group in good stead this year with operating profits rising more than a quarter. But it warns not to expect the same again and recession looms." (The Financial Times £)
The boss of Primark has called for 24-hour trading in December as stores battle to make up for lost lockdown sales in the run-up to Christmas (The Telegraph). Primark has called for store trading hours to be extended in December to help retailers offset the impact of the latest round of lockdowns in the UK, its most important market (The Financial Times £). Shops should be allowed to open for extra hours on Sundays and evenings in December, Primark's owner has said, to help retailers make up some of the trade lost during England's latest high street lockdown in a safe way (The Guardian).
Shops and restaurants are extending opening hours in a last-ditch effort to grab sales before lockdown amid forecasts that non-essential retailers face losing £2 billion a week in revenues. (The Times £). Retailers, hairdressers and restaurants in England have said they are extending opening hours and seeing their strongest bookings in months, as Thursday's lockdown looms (The Guardian).
Many European shopkeepers reluctantly accepted the need to close during the coronavirus lockdowns in the spring, but the second round of shutdowns in the autumn is proving a more difficult pill to swallow for bookstore owners, florists and hairdressers from Italy to Ireland — and harder for governments to enforce. (The Financial Times £)
English pubs will be able to sell takeaway beer during this month's lockdown, as long as its pre-ordered by phone or online, in a government U-turn after fears that more than 7m pints of alcohol would have to be poured away (The Guardian). Customers buying from pubs will need to order in advance and not enter the premise (The Times £).
HelloFresh, the online meal-kit provider, has more than doubled its revenues as a surge in demand for its food delivery services has endured beyond the first round of lockdowns. (The Financial Times £)
Walmart has scrapped a project which used six-foot-tall robots to scan store shelves after it found that humans were able to perform the task just as well. (The Telegraph)