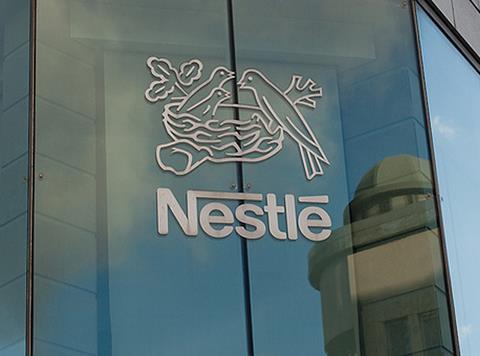 Top story
Full-year profits at Nestlé (NESN) slumped as sales growth at the Swiss food giant came in below expectations after a sluggish fourth quarter.
Total reported sales increased 0.4% to CHF 89.8bn (£69.2bn) in 2017, with organic growth of 2.4% – and 1.9% in the final three months of the year.
It was the sixth straight year of slowing growth at Nestlé and the lowest this century.
The group blamed negative growth in the US and deflation in Brazil for its disappointing results.
CEO Mark Schneider, who was appointed in 2016 to turn around the company, said: "Our 2017 organic sales growth was within the guided range but below our expectations, in particular due to weak sales development towards the end of the year.
"Sales growth in Europe and Asia was encouraging while North America and Brazil continued to see a challenging environment."
Underlying trading operating profit increased by 2.9% to CHF 14.7bn as operating efficiencies and execution helped the group largely offset the increase in commodity costs of around CHF 900m (£692.5m).
However, restructuring expenditure and net other trading items increased by CHF 900m to CHF 1.5bn (£1.2bn) due to the acceleration of restructuring projects.
As a result, trading operating profit decreased by 3.4% to CHF 13.2bn.
"Our cost reduction initiatives delivered margin improvement ahead of 2017 expectations, in spite of considerable commodity price increases," Schneider added.
"During the past months, we have completed initial portfolio adjustments with very favourable results. We will continue this active portfolio management approach in a disciplined manner and fully in line with our strategy. Regarding our core portfolio, accelerating our growth through product innovation and renovation is high on the agenda.
"Organic sales growth is expected to improve in 2018 and we are firmly on track for our 2020 margin improvement target."
Organic growth across North and South America was subdued and decelerated in the back half of the year. Excluding the confectionery business, growth in the US was flat, reflecting soft consumer demand and challenging category dynamics.
Organic growth in Europe, Middle East and North Africa (Zone EMENA) increased 2.3% to CHF 16.5bn following a significant improvement in the second half of the year, with two consecutive quarters in excess of 3% – largely driven by strong results in petcare and coffee.
The UK returned to solid growth after a challenging start to the year.
Shares in Nestlé have slumped 2.6% to CHF 75.34 so far this morning as investors were less than impressed with the faltering growth at the group.
Morning update
Nestle apart, it's a quiet morning on the markets for grocery and fmcg.
Coca-Cola HBC continued to ride high after yesterday's "exceptional" results (see below), with shares up another 2% to 2,390p this morning.
B&M also made further gains as markets opened, climbing 2.2% to 428.7p.
Other risers include SSP Group (SSPG), up 1.4% to 622.5p, Sainsbury's (SBRY), up 0.9% to 247.1p, Ocado (OCDO), up 0.9% to 477.4p, and Marks & Spencer (MKS), up 0.9% to 293.3p.
The FTSE 100 also opened 0.5% higher at 7,250.44 points.
Britvic has slipped 0.8% to 675.5p, Unilever (ULVR) fell 0.6% to 3,768.4p and PZ Cussons (PZC) is down 0.6% to 288.6p.
Yesterday in the City
Coke bottle Coca-Cola HBC (CCH) fizzed to the top of the FTSE 100 yesterday after it released "exceptional" results. The business reported a 5.9% jump in organic sales and a double-digit growth in profits as both volume and price growth boosted its full-year performance. Shares finished 4.8% higher at 2,344p as a result.
Other risers yesterday included B&M European Value Retail (BME), Compass Group (CPG) and Britvic (BVIC), up 2.5% to 419.3p, 2.1% to 1,548.5p and 2% to 681p respectively.
At the opposite end, Dairy Crest (DCG) fell 1.5% to 566.5p, Cranswick (CWK) dropped 1.2% to 3,042p and TATE & Lyle (TATE) was down 1% to 566.4p.
The FTSE 100 rose another 0.6% to 7,213.97 points.