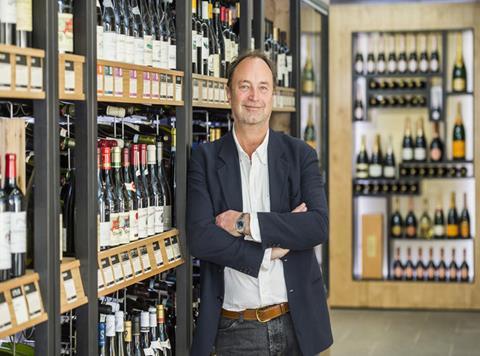 With Majestic Wine (WINE) stores reporting their first annual like-for-like sales rise in four years it's increasingly clear that new CEO Rowan Gormley's investment in revamping its store estate is starting to pay-off.
Majestic's retail division, which includes its 210 branches in the UK and two in France, this week reported a like-for-like sales rise of 4.8% in the year to 28 March after four years of declining sales.
The wine specialist, which bought Gormley's online-only Naked Wines operation in April 2015, instigated a large-scale review of its business in June 2015 when he took over, and has since ditched its six-bottle minimum purchase, rationalised its range and invested in stores, availability and staffing. The in-store revamp has helped boost the number of "active" customers by 12% to 775,000 and has been felt across the whole estate.
Stores open 10 years or more recorded like-for-like growth of 2.1% last year after a 2.8% sales drop in 2014/15, while stores five to 10 years' old were up 5.6% compared with 1.4% the previous period and new stores were up 11.1% compared to 5.3%.
"Anyone who walks into one of our stores today can see they look different [from] how they looked a year ago," said Gormley. However, he cautioned that Majestic was only one year into its three-year transformation plan and "it is too early to be sure this is a trend rather than a bounce".
There is further investment in Majestic's retail operations to come under the turnaround plan, including the widespread introduction of in-store shelving units to make it easier for consumers to shop and to free up staff to speak to customers.
Additionally, Majestic intends to open a new national fulfilment centre in September designed to make its supply chain more responsive to online orders and improve its ability to get stock in store at key times.
Reported group revenues were up 41.3% to £402.1m largely due to the Naked acquisition. But its investment in revamping the store estate and costs associated with the Naked deal meant profit before tax fell 11.9% on a pro forma basis to £15m and was 74.5% down on a reported basis to £4.7m.
The plunge in profitability was well flagged and Gormley said ideally it would have been lower as Naked Wines contributed £1m in adjusted EBIT, which he said was £500k too high as he would have preferred to invest some of that profit back into acquiring new customers. Naked Wines sales were up 27.3% to £104.3m, driven by strong US growth.
Gormley warned the market for wine retail in the UK remained tough, with small price inflation driven by duty rises amid an underlying decline in volumes.
"Profitability available to retailers is in decline, so to grow profits we need to take business off some pretty tough and experienced people," he said.
Gormley added that the market below £5 a bottle was "a bloodbath", but in Majestic's target £6-£12 range it had the opportunity for differentiation by offering advice, tastings and bespoke delivery services.
The wider consumer trend towards craft beers and spirits played to the group's strengths. "People will pay a premium for something that is authentic and that's exactly what our model is about," he added.