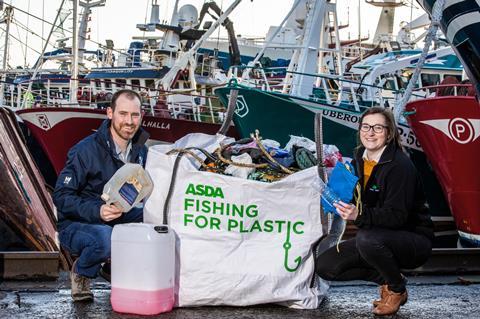 Asda has launched an initiative aimed at reducing the amount of plastic waste found in the sea.
The retailer's 'Fishing for Plastic' initiative will see its fish suppliers' fleets equipped with bags to collect plastic pollution found when bringing in their catches.
According to Asda, the scheme will see more than 500 vessels in UK, Norwegian and US waters help to fish plastic bottles, carrier bags and marine waste out of the sea.
"Working with our suppliers to tackle the wider issue of plastic pollution is vitally important," said Asda sustainability manager Laura Babbs.
"This is just a small step in our ongoing sustainability journey, but together with our suppliers, we have the ability to make a big difference."
The news comes after Asda held talks with suppliers last week about how to escalate the war against plastic.
It followed an open letter sent to suppliers by CEO Roger Burnley in October, which criticised them for focusing on consumers rather than the environment.
The retailer has said it aims to make "almost a third" of plastic packaging from recycled sources by the end of 2020 and reduce plastic by 15% by February 2021.