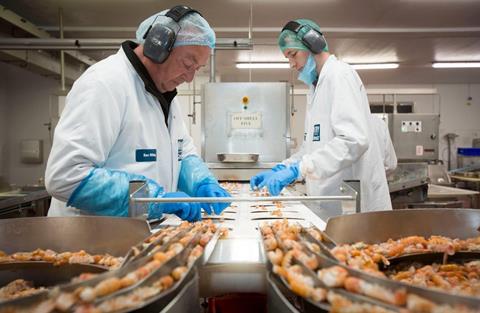 The return of the weekly shop has provided a sustained boost to frozen seafood sales, major frozen players have said.
Data from lockdown showed volume sales of frozen seafood overtook chilled for the first time since 2005 at the peak of the panic-buying phase during the week ending 21 March [Nielsen].
Even as lockdown measures eased in the UK, demand remained high, with frozen sales up 23.9% on last year [Nielsen 52 w/e 13 June 2020]. Suppliers said a long-term upward sales trend was emerging for frozen seafood, driven by the return of the 'big shop' among the younger demographic.
"What coronavirus has done is bring in a whole new range of consumers into the frozen aisle," said Young's Seafood marketing director Jason Manley. "The fastest-growing shopper demographic is more upscale, younger, pre-families. This new behaviour isn't going away, [and it] has the potential to change the demographic of the frozen category."
With the announcement this week that the UK is officially in a recession, suppliers said they believed growth would continue.
"We're being told by all the retailers that value is going to be important across the board," said Whitby Seafoods sales & marketing director Laura Whittle. "There's now a lack of job security and people feel a bit worried about the future," she added.
"Frozen has a real role to play because there's no wastage. [I also believe] it is better value than the rest of the store as you can buy a good quality bit of fish in frozen that I'd argue is better quality than on the fish counter, which is more expensive and has been frozen and then thawed out."
Whitby is seeking to boost the value of its products with larger scampi pack sizes, she added. Coincidentally, it launched its first such product – a 400g family pack – as panic-buying got underway.
And even with the reopening of foodservice, its figures showed half a million new customers had bought into the brand over July and August. The supplier had also seen a boost in both retail and foodservice orders of more than 50% than expected for this time of year – around 220 tonnes per week rather than 150 tonnes.
Elsewhere, Birds Eye said its products were still selling well despite the easing of lockdown. The challenge was now retaining shoppers in the category, said marketing director Sarah Koppens.
"It has given us as a brand the opportunity to reinforce the benefits and relevance of our products to the daily lives of shoppers," she added.
"As we tracked how consumers were living in the first few months of lockdown, we found many shoppers were reassessing their relationship with the freezer and changing their perception of frozen products," she said.