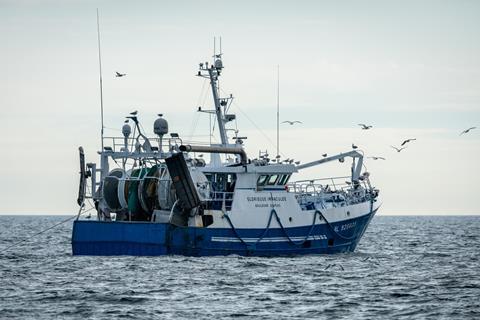 NGOs have urged the UK government and devolved administrations to ban bottom trawling in marine protected areas after new data showed a year-on-year increase in the time spent in them by trawlers.
According to analysis of 2020 data gathered by Oceana, 68,000 hours of fishing took place in 62 of the UK's 64 benthic MPAs – deep sea zones containing ecosystems of scientific interest, such as coldwater corals.
This represented an increase of more than 7,000 hours (10%) from the 60,818 hours of trawling activity recorded in the UK's 338,000 sq km of 'blue belt' in 2019.
Both Oceana and Greenpeace UK described the fishing practice as "destructive" and said the legislation governing MPAs should be tightened – measures they claimed were now in the government's power thanks to Brexit.
"We are calling on UK and Scottish ministers to commit to ban bottom trawling in our MPAs, rather than licensing it," said Melissa Moore, head of UK policy at Oceana in Europe. "If they cannot protect this small portion of our seas, what hope do we have for the rest of our ocean?
"With the ecological and climate emergency we are in, swifter action is needed and the UK, along with all G7 countries, should lead the way to ensure marine protected areas are truly protected."
Greenpeace UK oceans campaigner Chris Thorne described the latest figures as "shocking" and exhorted the UK government to "turn words into action and level up ocean protection" by completely banning bottom trawling in MPAs.
As part of World Oceans Day yesterday (8 June), Greenpeace UK launched a six-month operation that will see the environmental group patrol the UK's protected areas off the south coast in a bid to document and expose "destructive fishing practices" and "engage" with fishing communities.
In response to the NGOs' calls for action, a UK government spokesman described the UK as a "global leader in the protection of our seas".
"We are committed to achieving a healthy and sustainable marine environment. Now we have left the EU, the Marine Management Organisation is consulting on additional safeguards for four of our precious marine protected areas, including banning activities that harm wildlife or damage habitats."
The fishing industry also hit back at the NGOs' demands, with CEO of the National Federation of Fishermen's Organisations Barrie Deas saying fishing operations were facing "an unprecedented spatial squeeze" on where they could fish.
"Marine protected areas, a huge expansion of offshore wind and submarine cables now present an existential challenge," Deas said. "If we as a nation still want to consume fresh, wild-caught fish and support a fishing industry, this is something that we have to confront.
"We are committed to working with scientists and fisheries managers to achieve conservation objectives within MPAs whilst maintaining sustainable fishing practices."
It comes as the government yesterday announced plans to launch a pilot scheme to designate marine sites off the English coast as 'Highly Protected Marine Areas'.
These new zones could either be inside or outside existing MPAs and would see a ban on all activities that could have a damaging effect on wildlife or marine habitats, Defra said.
The new areas are set to be identified by Natural England and the Joint Nature Conservation Committee and will also have input from stakeholders through a formal consultation that is set to launch next year.