Negotiations for a potential 2022 deal are to begin this autumn
When the UK officially left the EU on New Year's Eve last year, the government wanted the country to believe it marked the end of negotiating with Brussels.
In fact, the UK must now sit across the table from the EU on an annual basis to negotiate fishing rights. Further talks will also need to take place with neighbouring coastal states like Norway.
It must also negotiate total allowable catches in jointly managed fisheries in the Channel, Atlantic Ocean and the Celtic, Irish and North seas, and barter over access to other countries' waters.
So, with negotiations for a potential 2022 deal set to get underway this autumn, what are the biggest potential stumbling blocks in the talks?
Quicker negotiations
For a start, the industry wants a UK-EU deal to be reached much more quickly than it was for 2021's catch. It took until June for fishing opportunities worth £333m – according to the government – to become available. Under the Trade and Cooperation Agreement (TCA) the UK and EU signed before Brexit, shared stocks must be agreed upon by 10 December.
The delay "meant some of our vessels in the North Sea had to tie up in the first half of the year – there just weren't fishing opportunities," says National Federation of Fishermen's Organisations CEO Barrie Deas.
According to Deas, the starting point for decision-making will be International Council for the Exploration of the Sea (ICES) advice on fish stocks and how much of them can be caught.
However, the advice is given on a single species basis and that is not how species are netted at sea. For example, cod and haddock are caught using the same technique.
Yet while ICES has recommended a 10.3% year-on-year cut to the total allowable catch for North Sea cod, at the same time is advocates a 154% increase in North Sea and west coast haddock and a 236% rise for North Sea whiting catches. Similar issues with whitefish are also present in the Celtic Sea.
"It poses a management problem," says Deas. "How do you keep the lid on cod, whilst allowing the fleet to take advantage of the increases in haddock and whiting?"
Elsewhere, Deas would like to see "greater flexibility" on bass fishery, which ICES said could go up 10.8% year on year owing to an increase in the number of adult fish. This increase still puts the total allowable catch for the fishery at only about 55% of the commercial catch level in 2013.
For the government's part, it says it will be "seeking sustainable outcomes" that take into account scientific advice from ICES while also "considering the needs of UK industry".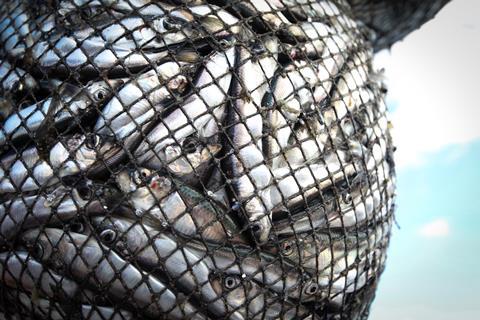 One non-negotiable feature of the talks will be the EU's access to UK waters as set out in the Brexit TCA. Under the agreement, the EU's fishing quota in UK waters is to be reduced by 15% across this year and then a further 2.5 percentage points each year until 2026, by which point 25% of the bloc's fishing rights will have been given over to UK fishermen. In August, the NFFO reflected that despite a "few concessions on quota shares" from the EU the deal was "miles away from what any self-respecting coastal state would consider fair".
It means the industry is wary of placing too much faith in the government ahead of the upcoming talks.
"I think there is a trust issue. But at the same time, the rational thing to focus on is what we can achieve together," says Deas, who adds that he wants to see government and industry working together and communicating throughout the process.
For some, trust in government to serve the industry's interest remains at rock bottom.
"[We] could not have been clearer about what is needed to survive and grow, and this has simply been ignored," says UK Fisheries CEO Jane Sandell. "All we can do is hope [the Department for International Trade] and Defra learn something from this year's failures and missed opportunities, and that in the years to come they start to listen to those whose interests they are supposed to be protecting. We can start to talk about trust once they have delivered that."
Sandell adds she would like to see politicians provide negotiators with the right mandate and right sanctions in case other countries don't offer a fair deal.
"Tariffs or other barriers would ideally not be necessary, but if those on the other side of the table know you're not prepared to get tough under any circumstances, then why would they make any concessions?"
Clearly, the government will need to take a tough stance in talks if it is to regain the trust of the UK fishing industry.