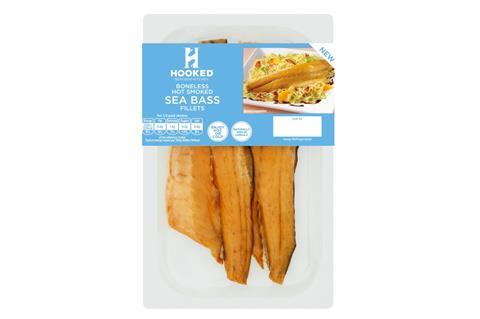 Young's Seafood has resurrected its Hooked Seafood Kitchen brand with the launch of a new Hot Smoked Sea Bass SKU into Waitrose.
It is the first time the Hooked marque has been seen for more than three years after its original launch as a frozen range in Iceland in 2016.
"The revival of the brand comes as we look to provide a fresh, modern proposition to the chilled market to attract new, younger shoppers to the category with innovative product launches and the Hooked brand is the perfect identity to do this with," said Young's commercial manager Philip White.
White added that Young's was aiming to bring more products into the range.
Initially, the brand has appeared on a new, ready-to-eat smoked sea bass SKU, which rolled into Waitrose on 22 July.
The NPD has been smoked through a process using oak, which Young's said gave the product a "light, nutty flavour" (rsp: £4.99/140g). It is available on a 20% off promotion until 14 September and is the latest chilled sea bass launch from the seafood supplier after it unveiled an added-value sea bass range last year.
Just like the recently launched New England Seafood chilled sea bass products, Young's sea bass has been farmed in Turkey.
Young's said it had seen a boost in popularity for chilled sea bass products but had identified a gap in the market for ready-to-eat sea bass options – a format in which the seafood supplier said many other species were available, and broke down "traditional barriers" to entry in smoked fish.
"We really wanted to open up the chilled market to a broader range of shoppers," White continued.
"[Previously] some may have rejected smoked fish products due to uncertainty over how to prepare them or the strong flavours associated with 'oily fish' species which are traditionally smoked, such as mackerel. This hot smoked alternative needs no further cooking, has a lighter smoked flavour and little to no smell."
Chilled fish has performed well during the coronavirus lockdown, with value sales up 14% year on year [Kantar 4 w/e 14 June 2020]. Young's said this was down to consumers seeking to emulate restaurant-style cuisine at home.