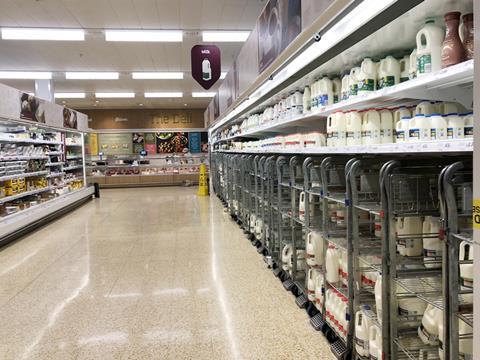 Inflation is creeping back into the dairy aisles as the mults hike prices on own-label milk, cream and butter.

Waitrose became the latest supermarket to increase its price for a standard four-pint own-label bottle of milk by 5p to £1.10 this week, following similar moves from Sainsbury's and Morrisons. Asda, Tesco, Lidl and Aldi are all still selling a four-pinter for £1.09, while Iceland is selling it at £1 [Edge by Ascential].

It comes as supermarket prices for cream have surged again since November 2018, up 3% on January 2018. Waitrose increased prices on selected cream SKUs last month, with a 200ml pot of own-label crème fraîche now £1, up from 88p, while a 500g pot is £2.30, up from £2. Tesco added 8p to a 300ml pot of own-label crème fraîche, now £1.18.

Morrisons this week added 5p to a 150ml pot of double cream, now 75p, after Sainsbury's did the same earlier this month.

Having fallen earlier this year, prices for butters and spreads have also been creeping up again in the major supermarkets since November 2018, and are now 1% higher than in January 2018.

Sainsbury's has this month added 5p to its 250g own-label slightly salted English butter block, now £1.65, while Morrisons has added 10p to its 250g block of own-label salted butter, now £1.60.

The average farmgate price for non-supermarket-aligned farmers in Great Britain rose steadily to a high of almost 32p per litre in October [AHDB] following the summer heatwave, prompting industry ­commentators to warn retail price increases for milk would be "inevitable". However, ­farmgate prices have been falling since November, with the likes of Müller and Arla both reporting price falls and citing global commodity price declines on the back of an increase in production.

Waitrose said this week it paid its dairy farmers "one of the highest milk prices in the industry, which takes into account any changes in their cost of production and allows them to invest in the future of their farms".

December milk production in Great Britain is expected to exceed 1,040 million litres - the highest December figure in more than 20 years, and eight million litres above December 2017 figures, according to AHDB. However, downward pressure on milk prices, combined with upward pressure on feed prices, could affect milk yields next year.

"Farmgate prices are expected to come under downward pressure in the early part of 2019 as the drop in market returns flows through," says AHDB senior analyst for dairy Patty Clayton. "How this develops beyond March will depend on how milk production reacts to lower margins."

Globally, milk production is expected to rise only modestly next year.