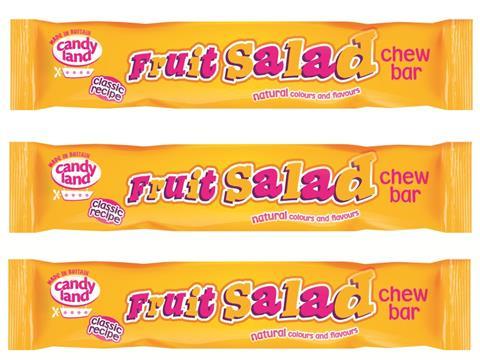 Tangerine Confectionery has cut the size and price of its Candyland chew bars.
Its Wham, Fruit Salad and Black Jack bars - which were previously 25g and priced 20p each - are being reduced to 16g and will now cost10p.
Pontefract-based Tangerine has also introduced 30p promotional price-marked packs to its existing kids' singles range, which includes Nougat (35g), Dip Dab (23g), Refresher Dip Dab (23g) and Refresher Rolls (34g).
"Taking our best selling kids' singles into price-marked packs not only makes them more widely available to a broader demographic of consumer but also gives them more reason to buy thanks to the 30p price," said Candyland senior brand manager Sarah Brown.
"Likewise with the new chew bars, offering these retro items at a 10p price point enhances the existing range while also offering consumers classic confectionery at purse-friendly prices."
Tangerine is rolling out its Catherine Wheels in a twin-pack format for 39p. They were previously only available in a six-pack box.