The big news story in grocery this week was Tesco's new turnaround strategy. Amid all the talk of reducing its famous 5.2% margin and slowing down store openings, group CEO Philip Clarke also revealed Tesco would be taking a new approach to promotions.
It would put an end to "frivolous promotions", he said, promising that only genuine ones would stay and that they would be more consistent. "There has been too much volatility on prices and we will continue to make our prices more stable," he said.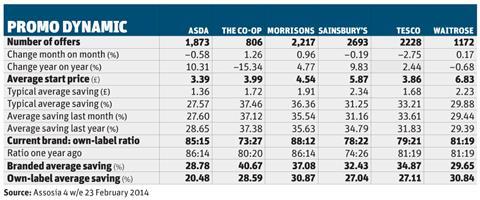 There is certainly plenty of evidence of the retailer's current topsy turvy approach to deals in the latest data compiled for The Grocer by promotions specialists Assosia.
The UK's biggest retailer had 2,228 deals in featured space during the four weeks to 23 February. This represented a 2.75% fall on the number it had during the preceding four-week period but was 2.44% up on the same period last year.
The average saving for customers taking advantage of Tesco deals was £1.68. This was 1.18% less than last month but 4.34% more than a year ago, a clear sign Tesco is feeling the heat from the increased competition and is intent on bringing prices down.
The promotional landscape presented a rather mixed picture overall as retailers offered varying levels of Valentine's deals and began the build-up to Easter.
Of the biggest six UK grocers, The Co-operative Group, Morrisons and Waitrose all ran more deals than in January, while Asda and Sainsbury's joined Tesco in running fewer.
Compared with last year, Asda and Waitrose had fewer deals while the others all ramped up their offers on a year-on-year basis.
Sainsbury's, which had the most deals (2,693), had ratcheted up its activity significantly compared with last year (offering 9.83% more deals), but was actually offering smaller savings, with the average saving down 10.18% on February 2013.
Meanwhile there was bad news for lovers looking to do a budget Valentine's as retailers were offering fewer deals on wine and confectionery. There were also fewer deals on meat for those looking to cook up a nice steak for their loved one.
Wholesale prices: Lamb prices at more normal levels
UK lamb prices are returning to more normal levels for this time of year. At £4,026/tonne, they are currently up by 12.2% year on year and up 1.4% on last month. Prices this time a year ago were unusually low because a large number of old-season lambs were being marketed late in the season following the poor finishing conditions in the summer and autumn of 2012.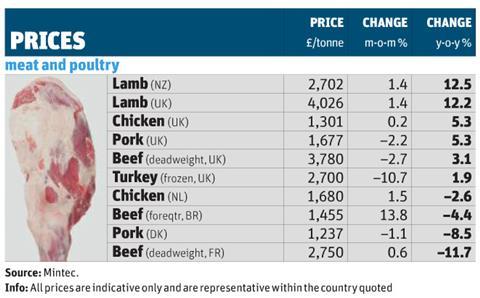 Beef prices in the UK remain up on a year-on-year basis because of generally strong demand and low supplies. However, prices have eased somewhat over the past month because the high prices have started to dampen demand.
In Brazil, beef prices are up month on month because the country experienced its hottest January on record this year, which has sparked concerns about drought and a knock-on effect on cattle.
Meanwhile, turkey prices are down sharply on last month because of reduced demand following the Christmas period.
(Julia Glotz)