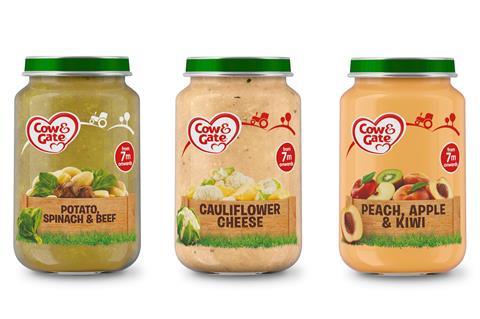 Danone has recalled a vast swathe of Cow & Gate babyfood jars from Tesco, amid fears of tampering.
Cow & Gate has urged shoppers to return 200g jars of 15 lines of the babyfood for a full refund, and warned against feeding them to babies.
The affected lines are: Cow & Gate Butternut Squash Chicken & Pasta, Courgette & Hake Rice, Creamy Cauliflower Cheese, Garden Pea & Turkey, Potato Spinach & Beef, Potato & Turkey Roast, Spaghetti Bolognese, Succulent Pork Casserole, Tasty Cottage Pie, Tomato & Courgette Pasta, Yummy Harvest Chicken, Apple Crumble, Banana Crumble, Peach Apple & Kiwi and Rice Pudding.
The recall covers all batch codes and best before dates that were sold in Tesco.
However, a Danone spokeswoman stressed Cow & Gate 7+ months jars sold in other retailers' stores were not affected and said no other Cow & Gate babyfoods in jars or other packs were involved. "Consumers can continue to buy and use these products bought from other retail outlets in complete confidence," she added.
Danone said it was "sorry for the concern and the inconvenience that this recall may cause".
It comes just over a month after Heinz babyfood jars were recalled by Tesco amid suspicions of tampering. Two sharp metal fragments were found in a jar of Heinz By Nature babyfood, causing a recall of the entire range of 7+ months jars at the retailer.