African swine fever has already claimed half the pigs in China. Now the 'biggest animal disease outbreak ever' has arrived in Europe. So what – if anything – can the UK pork market do?
Disaster. That was the prediction as African swine fever (ASF) was detected in China for the first time.

"If this disease gets out of control the losses will be immeasurable," said one analyst at the discovery of 48 dead pigs on a small farm in the north east of the country in August 2018.

Fear spread faster than the disease. Authorities ordered 1,000 more pigs to be culled. Farmers were banned from transporting hogs from infected areas and from feeding their herds scraps. Desperate officials insisted the outbreak had been contained.

A year later, though, and some say China - home to half the world's pigs - has lost half its herd to the disease. Hundreds of millions of hogs have been either infected or culled and a quarter, or 13 million tonnes, of the country's protein output has been eviscerated in just 12 months.

Across Asia the outlook is bleaker still. It's believed up to five million pigs have now been culled as a result of the disease, with the infection spreading to Vietnam, Laos, South Korea, the Philippines and Russia, among others.

At the same time, ASF is racing across Europe, with 10 countries now reporting outbreaks, including Romania, Bulgaria and Slovakia. Even Belgium - just 500 miles away from UK shores - reported ASF had been discovered in wild boars found dead in the forests of the Étalle region in February.

It is quite simply "the biggest animal disease outbreak we've ever had on the planet," according to one expert. One which makes the impact of foot and mouth disease, or classical swine fever "pale in comparison".
So, just how worried should the UK be?
ASF is highly contagious, with no cure and no vaccine. And though it poses no danger to humans it is fatal to each and every pig it infects. Symptoms escalate from decreased appetite and weakness, to skin lesions, vomiting and difficulty breathing before death. Even worse, the process is slow.

Symptoms take up to two weeks to appear in an infected pig. Plenty of time for it to have circulated with hundreds more animals in a herd, spreading pathogens to transport and abattoirs before a farmer or processor has even spotted the disease. Worse still, it can survive up to 1,000 days in frozen meat, creating yet another opportunity for infection to spread.

Put simply, "it's a really tenacious little virus," says Zoe Davies, CEO of the National Pig Association (NPA).

The current outbreak might be unprecedented in its scale, but pig farmers have been fighting ASF for more than a century. The first case was discovered in wild warthogs living on a reservoir in East Africa in 1907. The first international outbreak, meanwhile, dates back to the late 1950s and early 1960s, where it reached parts of Europe until it was largely eradicated. Some regions, such as Sardinia, haven't been able to shake off its presence, even after 40 years.
US readies itself for trade with China by eliminating drug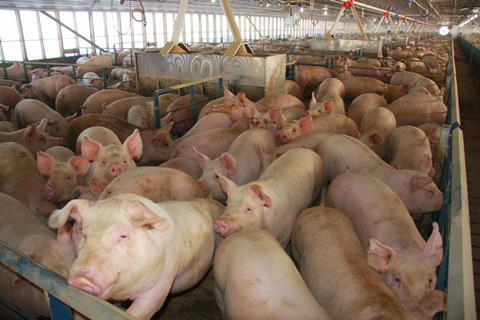 The US sits behind only China and the European Union when it comes to the size of its pork industry - a fact that makes constraints on its ability to export products in the wake of increased demand from China only more frustrating for producers there.
In fact, despite the outbreak of ASF, US pork exports to China halved in 2018 to 263,000 tonnes, according to the General Administration of Customs. This was due to the impact of two rounds of tariffs, taking taxes on frozen US pork to 62%, in the midst of an ongoing US-China trade war.
But as negotiations point to a potential end to the tit-for-tat sanctions, producers are readying themselves to take advantage of opportunities in China. Not least by prohibiting the use of ractopamine in herds, a feed additive banned by China.
An Arkansas branch of Tyson Foods became the latest supplier to announce it would eliminate the fattening drug last month, following the same announcement by the US arm of JBS SA only a couple of weeks earlier, in a move experts say gets both companies into position for increased trade with the Far East.
Outbreak's origins
This latest international outbreak began in 2007, when it's believed catering waste that contained infected pigmeat was shipped from Africa into a port in Georgia. From there it travelled to Russia, eastern Europe and - most cataclysmically - China.

"The situation in south east Asia has gone completely out of control," says Davies. "China has lost 140 million pigs already and there's no sign at all of that abating. The stories that we're hearing coming out of there would turn your stomach and there's no sign of it stopping, no sign of it stopping at all."

There are many factors behind the rapid spread of the disease in China. Some point to ongoing swill feeding, where herds are fed on infected scraps as a way to cut costs.
"The stories that we're hearing would turn your stomach and there's no sign of it stopping"
Others to the country's fragmented population of small commercial farms, which may have fewer resources for stringent biosecurity measures and which are also harder to bring under centralised controls.

A spokeswoman for the World Organisation for Animal Health (OIE) tells The Grocer that "pig industries located in this region are very diverse and disseminated throughout a vast territory, from large modern farms to small backyards farms. These characteristics lead to major difficulties for the national authorities to apply control measures and improve biosecurity practices."

But that's not the only reason, says Dr Linda Dixon, who has been studying the disease at the UK's Pirbright Institute for 20 years. "It also seems that pig movements happen over very large distances in China, so the initial outbreak was in the north east and not long after that the second detection was in an abattoir in Beijing. That's thousands of kilometres apart."

What is clear is that the country's smallholders appear to have been worst affected, with stories of desperate farmers continuing to illegally trade in infected meat and reports of a failure to follow international protocols on how to cull infected herds.

It's raising some big concerns for animal welfare in the country. "There are pieces of footage emerging that show pigs being dumped into pits alive and then either buried, or worse, a pit of live pigs then set on fire," says Philip Lymbery, CEO of Compassion in World Farming. "Frankly I feel that not enough is being done by the authorities to make sure that those kind of scenes can't happen."

The impact on China's domestic pork supply has already been catastrophic. Despite the government releasing 10,000 tonnes of emergency reserves into the domestic market in September, pork prices in the country are up about 57% year on year, according to the country's Ministry of Agriculture and Rural Affairs. The volume of pork being imported into China, meanwhile, has increased 76% as authorities attempt to plug the gap in protein.
"Global pork production will decline by over 14 million tonnes in 2019 - similar to removing the whole of US production for one year"
With China both the world's largest producer - and the world's largest consumer - of pork products, that impact has reverberated across global markets.

"Global pork supply has contracted by an unprecedented amount since African swine fever was first detected in China," says Justin Sherrard, a global strategist for animal protein at Rabobank. "In Rabobank's view, global pork production will decline by over 14 million tonnes in 2019, which is similar to removing the whole of the US production from the global system for one year.

"In China, prices for pork, chicken, beef and sheepmeat have passed record levels, and could move even higher in the coming months. Across the EU, average pig prices jumped markedly in March, and have moved to levels well above the five-year average since April - they are now more than 20% above average levels, and this gap is widening as typically we expect a seasonal decline in prices at this time of year. UK pig prices are also at high levels - over 15% up on levels typically expected at this time of year."

"While export demand is pushing up EU prices, the vast majority of pork produced in Europe is also sold and consumed here, so high prices are finding their way into consumer markets as well."

For European and UK producers, the ASF outbreak has thus far been lucrative. With US imports constrained by the ongoing US-China trade war, major European processors, including those from the UK, have seen heightened demand. Cranswick, for example, has said demand for fifth-quarter material (such as feet, tails, heads and bones) and whole carcases has increased from the Far East. It's thought the surging demand helped the processor to bump up its sales 1.5% year on year in the three months to June.

"It's a sad fact that other countries are capitalising on the fact that south east Asia is struggling," says Davies. "You can't deny that China desperately wants pork so the world is only trying to fill that void. Our export trade to China has risen exponentially this year and there's no sign of that stopping."
Has African swine fever led to animal welfare atrocities?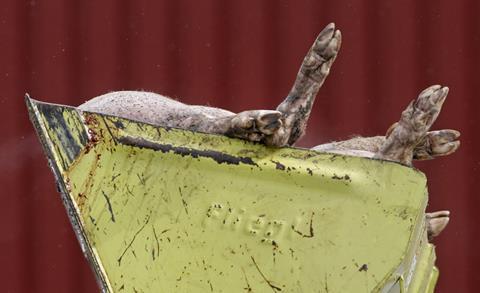 The precise location and timings are impossible to verify. But Compassion in World Farming CEO Philip Lymbery can be clear on what some of the footage coming out of China over the past few months depicts. It shows large pits - too large to be limited to small backyard farms - into which live pigs are dumped. Pigs that are then buried alive or set on fire. Some of the videos were just too distressing for him to watch all the way through, he says.
"All too often animal welfare falls off the agenda very quickly in the panic and mayhem that ensues from a major disease incident like African swine fever. And yet the care and attention needed to implement internationally agreed rules is likely to pay positive dividends in dealing with the disease. There's no excuse for not killing animals humanely."
No fewer than 182 countries - including China - are members of the World Organisation for Animal Health (OIE), which includes signing up to agreed standards on the culling of livestock during the outbreak of disease. Those standards include detailed guidance on humane shooting and the use of nitrogen or inert gas for poultry and other neonatal animals.
But if this footage is accurate, those standards are being utterly cast aside in the panic of the current outbreak. Lymbery is urging the OIE to do more to stop that happening.
"I'd like to see the OIE focusing much more of their effort and attention and resources to practically connecting with and supporting the Chinese authorities in dealing with this horrendous issue," he says.
"I'd like to see the global community helping to support the Chinese authorities by providing resources and training so scenes like the ones I've described, where pigs are being poured alive into giant pits and either buried alive or worse, are prevented."
Consequences for UK
Were the outbreak to reach the UK though, "we'd lose that [trade] overnight", Davies warns.

"Even if we got one case in a pet pig somewhere nowhere near any other pigs, our export market to China would be lost on day one," she says. "That's worth around £80m and rising." Unlike European countries, the Chinese government doesn't recognise zoning when it comes to livestock disease. A case in one region or on one farm would therefore see it refuse all exports from the entirety of the UK.

The EU does recognise these zones. Poland still exports its pork to the EU, for example, despite some infected areas. "But once we're out, who knows how they're going to treat us?" goes on Davies.

Exports aside, an outbreak would have a potentially devastating impact on supplies of domestic pork.

Not only could the disease wipe out a big chunk of the UK pig herd, but individual farms caught inside infected zones would be unable to move their livestock, with the process of ensuring an area is free of disease taking a minimum of three months.

"I had classical swine fever on my farm back in 2000," remembers Davies. "It took us over a year before we were back in full production. And we were one of the lucky ones because we killed the animals and had an empty farm to clean before we were allowed to restock. For those stuck in a zone where they can't move anything, animals are slowly destroying the buildings because they're getting bigger and more destructive."

There is no available vaccine to curb the spread of the disease, either. "It's still a few years off" admits Dixon. "There's good experimental vaccines but a lot of safety and efficacy testing has to be undertaken before companies can apply for a licence to register the vaccine for commercial use."

A Defra study in July estimated that a 'reasonable worst-case scenario' outbreak of ASF could cost the UK £90m at current pork prices. The NPA, however, says that's far too conservative and that the real cost could be closer to £500m when lost exports are taken into account.

Loss of UK production would also lead to greater reliance on imported pork, pushing up prices for consumers. The UK currently relies on Denmark for 25% of its imported pork, where prices are at their highest since 2001 as a result of demand from China. Danish Crown, a major supplier into the UK, has said demand is so high that ports are being kept open for additional hours to cope. In short, an outbreak would cost the industry tens of millions, perhaps more, while consumers would face surging prices and potential shortages.

But how likely is this to happen? After all, the UK is yet to suffer an outbreak of the disease, which has plagued the world's pig population for over a century.

In August 2018, the government raised the risk of ASF entering the UK through contaminated products from 'low' to 'medium' due to 'the ongoing situation in Eastern Europe, and continued reports of ASF in wild boar in Belgium'. That means an outbreak is expected 'within a year', farming minister George Eustice told NPA chairman Richard Lister in September.

The UK's weak spot is the border, believes Davies. In particular the risk of someone carrying infected meat in their luggage into the country. It was only in June that just such an incident occurred in Northern Ireland. Officials confiscated 300kg of illegal meat and dairy products from passengers, with a Belfast lab later confirming it contained ASF.

The motivation for someone packing infected meat into their suitcase could be ignorance, carelessness or even an intention to sell it on - as was the case in Vietnam in July when a student was arrested for smuggling 10kg of ASF-infected pork rolls into Japan with the intention of selling them online. "People don't realise the consequences or some perhaps don't care," says Dixon. "They just don't think it'll end up being eaten by a pig, but you can't be certain what's going to happen to leftover foods."

With the UK's high population of outdoor-reared farms, all it would take would be for one person to carelessly dispose of infected meat. "A colleague of mine cycled past a lay-by on a very busy road the other day and there were two guys having a barbecue," says Davies. "They might easily have chucked some scraps over the hedge not realising that on the other side was an outdoor pig unit. That's how easy it is."
Prevention
So, what's being done to prevent this? Defra launched an awareness campaign in July that saw posters put up at ports and airports pointing out the risks attached to bringing in contaminated products. It also insisted border patrols would search freight, passengers and luggage, with any illegal meat imported seized and destroyed.

The NPA, meanwhile, has targeted boar hunters that may be travelling back from infected parts of Europe and pasted posters up in the Forest of Dean, encouraging the public not to feed the wild boar population. And it's contacted universities asking them to communicate to international students the risk of bringing over food in their luggage. "Every potential way of communicating with people that might be a threat we've tried to cover," says Davies.

Pig producers have also been urged to "ensure their biosecurity is tight, particularly in regards to vehicles, animals and people coming on to their units," adds AHDB senior veterinary manager Mandy Nevel. At Tulip, suppliers are being asked to ensure they remind any eastern European workers returning from holidays to be strict about not bringing back pork meat, says agriculture director Andrew Saunders. "At an abattoir level, we are ensuring all lorries leaving site have been thoroughly washed and disinfected to a standard that minimises the potential spread of disease, and are also backing the #muckfreetruck campaign launched by the NPA earlier this year, which encourages farmers to prevent dirty lorries arriving from abattoirs from entering their farms."

Cranswick, meanwhile, says it is following the "procedures set out by Defra and other government bodies"

When asked if authorities are taking the threat seriously enough though, Davies answers with a resounding no. "We've been here before. We know what an outbreak of a disease is like. We know the law and what we can and can't do. There's no excuse for not being prepared or as prepared as we can be.

"It's the first disease where we've had warning that it's coming. With classical swine fever and foot and mouth disease we had no idea, it was a bolt out of the blue. This time around we should be far better prepared."

The briefest of looks at the devastation in China should be more than enough motivation to do so.
How does African swine fever compare with previous epidemics?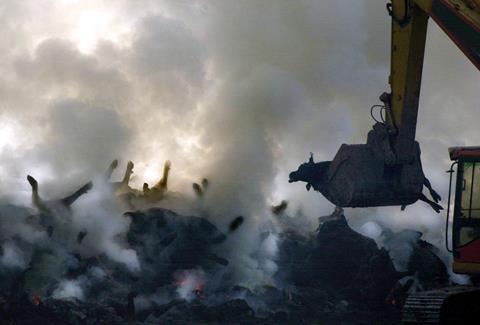 ASF is not the UK's first close encounter with deadly livestock diseases.
The early 2000s brought two major outbreaks, classical swine fever (CSF) hitting in 2000 and then foot and mouth (FMD) in 2001. So what lessons have UK farmers learned from the pandemics on their herds?
Classical swine fever
Parts of the UK pig industry were plunged into crisis in August 2000 as the government ordered the slaughter of thousands of pigs following an outbreak of CSF on East Anglian farms. Fearing another BSE-style collapse of the industry, ministers swiftly ordered 6,350 pigs at farms across Norfolk, Suffolk and Essex to be culled after the disease was first detected, while the Netherlands and Belgium issued precautionary bans on imported British pork.
Like ASF, CSF infects both wild boar and domestic pigs. Also like ASF, it can spread rapidly via contact with infected animals, tainted objects or swill feeding - a practice that was banned a year after the outbreak by UK authorities. It can be prevented via vaccination, though.
That was enough to see it successfully confined to East Anglia in 2000, limiting a broader impact on the UK industry. But the impact of the disease on pig farmers there was profound. In total, 16 farms were affected, with about 75,000 pigs culled to control the spread. Those in infected zones were on lockdown for months and the compensation - or producer levy - of £4.4m was delayed.
In an effort to make responses to any future outbreaks more efficient, the Classical Swine Fever Order was introduced in England in 2003. It includes a burden on producers to notify authorities even where they only suspect the disease.
Foot and mouth disease
Burning pyres erected to dispose of animal carcases and soldiers digging mass graves in the UK countryside are images seared on to our collective memory. The outbreak of FMD in 2001 was catastrophic, with more than six million sheep, cattle and pigs culled by the time the last case came to light. Farmers faced huge economic losses - with some going out of business and a total loss to the UK industry of around £3.1bn.
Even tourism took a nosedive, largely because - unlike ASF and CSF - FMD can, in theory, infect humans. FMD is a zoonosis, a highly contagious livestock disease that can pass to humans, though it's extremely rare (unlike hand, foot and mouth disease, which is much more common in humans and with which FMD is often confused).
The outbreak marked a step-change in how authorities managed FMD in the years since, the efficacy of new policies put to the test only six years later with a subsequent outbreak in 2007. Any susceptible animals were culled within two days and protection zones were set up at 3km and 10km, in line with new European regulations. Only eight cases were confirmed.
More broadly, FMD has seen a huge boost to biosecurity measures at individual farms, with the lessons of the 2001 outbreak a constant reminder to everyone in the UK industry of the potential catastrophes that can result otherwise.