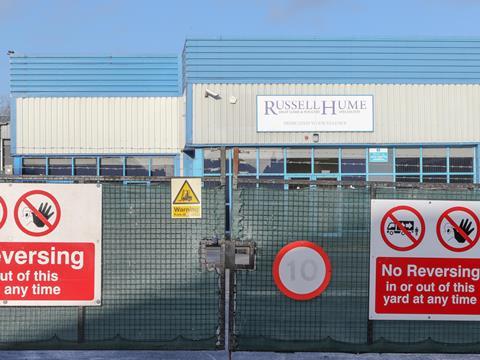 The Food Standards Agency has stepped up its investigations into the Russell Hume meat scandal, with key personnel at the supplier expected to be interviewed under caution, The Grocer understands.
A team of 80 is already on the case, with the FSA working alongside Food Standards Scotland, local authorities, environmental health officers and Defra's Animal and Plant Health Agency, investigating what CEO Jason Feeney has described as "systemic and widespread" re-labelling issues (extending the use of use by dates), as well as food safety management system issues, at the meat supplier's six plants in England and Scotland.
The issues were first identified by the FSA after a random inspection at Russell Hume's Birmingham factory on 12 January, and has resulted in recalls from all of its customers, including Wetherspoon, Jamie's Italian, Greene King and Marston's pubs, in addition to a host of schools and care homes.
Feeney added: "We have already stopped these plants producing meat products, have ensured the withdrawal and disposal of the products and now we are looking at the root cause of the incident and any culpability."
FSA chair Heather Hancock said the scandal was on a "new scale" to last autumn's 2 Sisters poultry scandal, and had prompted the regulator to bring forward a "full review of official controls in cutting plants, so we can get to the heart of this issue".
"In the light of these recent incidents, the FSA and FSS will be taking forward reviews of cutting plants and cold stores used for meat. Further details will be published later this month and the results will be fully available to the public," Feeney added.
With both the Russell Hume and 2 Sisters cases involving the extension of use-by dates, Hancock admitted it was difficcult to prevent suppliers re-labelling meat, but the controls currently in place – using international protocols – would have to be looked at to "stop companies and individuals from behaving in this way", including the use of CCTV in cutting plants, and ensuring controls were "tightened up, clarified, and given more teeth".
"This is not supposed to be a game of cat and mouse, where the question is 'are we quick enough to get the mouse?' Companies are meant to do things right," she said.
Hancock also hit out at the assertion that "no-one had become ill" from the scandal. "The point of the rules isn't just to stop people getting ill, but also to manage the risks so we never get to this point."
She said: "We're managing the withdrawal of products, and are following up with customers to make sure they have actioned withdrawal notices, while also supervising the disposal of meat."
The FSA was working with Russell Hume on proposals to get its factories reopened, she added. "They are currently revising their procedures and putting them to us for approval. We are commenting [to Russell Hume] on the extent to which we can approve these plans or whether they need more work."
The scandal first emerged at the start of last week when Wetherspoon announced it had pulled all the supplier's products from its 900 outlets due to concerns over "quality issues" and "mislabelling".
Hancock also took aim at critics of the FSA over how it had dealt with the scandal, and their calls for more information.
"I'm sure the media and the public would like a blow by blow account, but they can be assured that none of that meat is on sale and it's not in the supply chain," she insisted, echoing Feeney's claim there had been "no cover-up" over its handling of the scandal last week.
"Fundamentally, this is about the management and culture of food businesses," she added. "If [the scandal] serves as the wake-up call to the industry about always doing the right thing, and their need to assure the public they are doing the right thing, then some good may come of it."