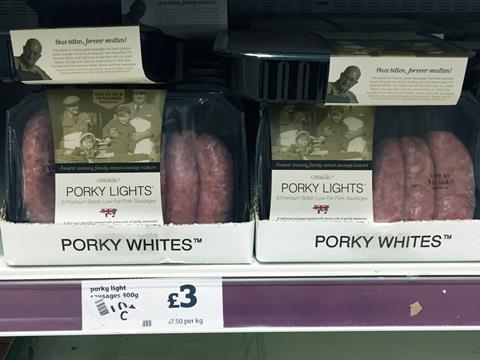 Porkies,' shouted the headline on The Sun's front page last week, as it claimed healthy sausages marketed as low fat to slimmers were in fact no different to normal bangers.

The sausages in question were Porky Lights, manufactured by Surrey sausage maker G White & Co, and for a brief period the darling of slimmers nationwide due to their claim to contain just 3% fat (when most bangers are upwards of 10%).

G White & Co insists its sausage is low fat and that its own testing will back up these claims. Indeed, boss Chris Price told The Grocer last week he was seeking legal advice over the potential damage done to the brand's reputation.
Sausagegate: what happened?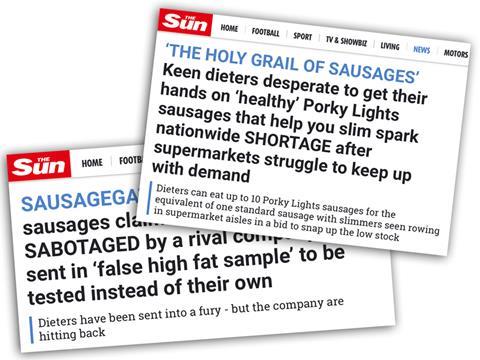 Surrey-based sausage supplier G White & Co launched its Porky Lights sausage at the start of 2016 in response to calls from shoppers for a lower fat sausage that didn't compromise on flavour.
With the sausage containing just 3% fat and 1.2% salt, the supplier's MD Chris Price told The Grocer in October 2015 he hoped the newcomer would be "beneficial to our range".
Little more than 15 months later, Porky Lights were on sale across the big four, and had been endorsed by Slimming World over its low fat content. National newspapers were describing the banger as the 'Holy Grail of Sausages'.
There were even reports of shoppers fighting over the sausages as they contained just 0.5 Slimming World 'syn points' (compared with as many as 4.5 syns for standard sausages).
However, the product's runaway success came crashing down to earth last week when The Sun newspaper claimed Porky Lights contained as much as 15% fat (a claim that was forcefully denied by G White & Co's Price).
Citing data from rival manufacturer Finnebrogue, the newspaper story revealed dieters were incensed over the revelation the sausages they were eating may not be low fat, with the following controversy predictably dubbed 'Sausagegate'.
But the fallout from the row - and a separate case revealed by The Grocer this week that packs of Propercorn contained a significantly higher amount of fat than advertised - have raised serious questions over the accuracy of nutritional claims and how they are verified.

So how do food companies determine a product's nutritional content in the first place? What kind of testing is available and at what cost? And who verifies and polices on-pack nutritional information?

According to DH guidance, food companies should display information on energy, fat, saturates, carbohydrate, sugars, protein and salt content on the majority of pre-packed foods, with the exception of food supplements and mineral waters.

But how food companies arrive at that information is far from straightforward. There is no legal requirement to test food in labs or even a set of rules over the testing methodology. The FDF says food manufacturers have a choice of three methods to determine a product's nutritional content: they can have the product tested in an accredited lab; calculate nutrition content based on known or actual values of the ingredients used in the product; or use generally accepted data - such as PHE's McCance and Widdowson's Composition of Foods dataset.

Depending on what method is chosen, the nutritional values can vary considerably. Even when food is tested in a lab, on-pack information can give consumers no more than average values. "It's a snapshot of the product," says a spokeswoman for the FDF. "There's always going to be variation in raw materials, based on variables such as seasonality."
Typical values only
That is why on-pack nutritional information tends to state 'typical values', though how many consumers pick up on that nuance is debatable.

There is guidance on accuracy levels from the EU to ensure on-pack information isn't too far removed from what is actually in a product, with stricter requirements for suppliers that make specific claims such as 'high fibre' or 'low fat'.

But a major caveat is that this merely represents guidance, and PHE says such guidance should not be taken "as an authoritative statement or interpretation of the law".

Ultimately, if there's a dispute over nutrition labelling, the decision as to whether what's on pack is acceptable is for courts and tribunals to decide.

As a result, the accuracy of declared nutritional content can vary widely, says Paul Finglas, head of food databanks at the Institute of Food Research and one of the authors of the McCance and Widdowson dataset. "Because they aren't compelled to test in a lab, we're seeing more and more small food companies resorting to doing their own calculations based on their own recipes."
"More and more companies are resorting to doing their own calculations"
Indeed, IFR now offers a service for food companies that calculates nutritional information for them. "They might do some analysis at the start to set a benchmark on the ingredient tolerances, but as a follow-up many switch to calculations because of the cost," Finglas adds, with one lab session costing about £150, compared with just £25 for a similar calculation.

There are, however, pitfalls to this way of working, he warns, with a host of variables to consider. "In some foods, you can measure sodium and get a value for the label, but for meat, there's also sodium in lots of additives, so if you're doing a calculation and don't take that into account you could be a long way out."

If there is any deviation from the recipe, levels can also be thrown out. That's exactly what happened to Propercorn, which admitted this week some packs of its Lightly Sea Salted popcorn may have contained considerably more fat than the 14.5g per 100g stated on pack. An internal investigation revealed too much oil was being used by the brand's third-party manufacturer, and Propercorn says it remedied the problem as soon as it became aware of it.

But worryingly for consumers, there is no systematic way for such problems to be uncovered. The only way issues like these come to light is if someone (often a rival) runs a test and brings discrepancies to the attention of the authorities.

"There is no formal verification process for nutrition information," the FDF spokeswoman says. "However, the data on the label is open to scrutiny from enforcement and consumers. If challenged, a manufacturer should be able to substantiate the data presented."

Some argue lab testing should be made mandatory to ensure manufacturers have to be more careful with nutrition data, but the FDF says it fully supports the existing enforcement regime, "which provides a clear framework for Trading Standards to address non-compliance".
And what of the FSA?
Not everyone agrees that framework is as clear as it could be. Enforcement around nutritional information is complicated because responsibility for labelling is split across various official bodies.

The FSA primarily deals with safety concerns, while labelling non-compliances, which are not safety issues, are enforced by Trading Standards. This split can give rise to all sorts of problems. The FSA says if it receives a report on nutrition labelling "where there was a suspicion consumers were being misled about a particular product", the FSA and National Food Crime Unit would work with the relevant local authority to investigate. But that's a marked departure from the days when the FSA was "in charge of everything" including nutrition, food safety and food hygiene, says Kathryn Gilbertson of Greenwoods Solicitors. Strictly speaking, nutrition is now handled by PHE, she adds.
Policing food fraud
Under the current system, inaccurate claims can easily slip through the net. "PHE aren't really doing a huge amount in terms of policing on this subject and would probably work alongside Trading Standards," adds Gilbertson. "But Trading Standards are operating in straitened circumstances and would not take any action unless they received complaints, so it's a challenge."

Another area of potential controversy is whether companies should recall products - or at least inform consumers - if they, like Propercorn, find labelling discrepancies. There is no legal obligation to do so, as food safety isn't at stake, but as consumers become increasingly health conscious, some experts argue suppliers should be required to make consumers aware of any issues.

Beyond that, the lack of clear regulatory oversight could also present opportunities for fraud, warns Professor Chris Elliott. "I would like to think this practice isn't widespread, particularly as we have a really good food industry in the UK, but there will be those people setting out to cheat and deceive, and we've got to put measures in place to do more testing."

Suppliers may not relish the idea of higher costs associated with such measures, but a tougher testing and regulatory regime could well help better protect them from unfounded charges of 'porkies'.