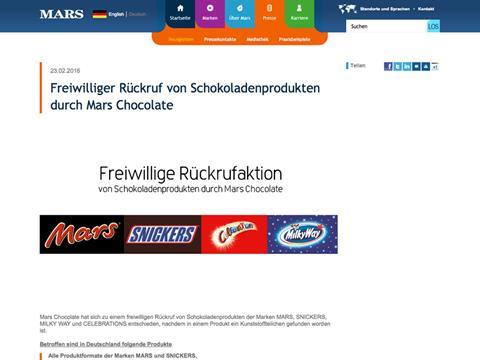 Mars is recalling millions of Mars, Snickers and Milky Way chocolate bars in Germany after a consumer claimed to have found small pieces of plastic in a pack.
The company has issued a voluntary recall for all Mars and Snickers products as well as Milky Way Minis and Miniatures and some Celebrations mixes with best-before dates between 19 June 2016 and 8 January 2017.
"The objective of this recall is to prevent consumers who have purchased one of these products from consuming them," Mars Chocolate Deutschland said in a statement. "We have deliberately chosen a very long production timeframe to ensure we are recalling all products that are potentially affected."
The company added it was in close contact with German food regulators.
The original German recall notice can be found here: http://www.mars.com/germany/de/press-center/press-list/news-releases.aspx?SiteId=70&Id=7010
Mars announced late on Tuesday the recall had been expanded to the UK, affecting several batches of funsize lines. Reports in the Dutch media suggested the recall had been widened to 55 countries overall; this has not been confirmed by Mars.
Check back for updates to this story