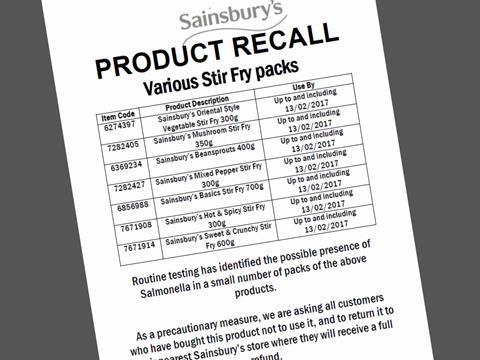 Sainsbury's has issued a recall of seven stir-fry products after traces of salmonella were found.
The affected products include Oriental Style Vegetable Stir Fry (300g), Mushroom Stir Fry (350g), Beansprouts (400g), Mixed Pepper Stir Fry (300g), Basics Stir Fry (700g), Hot & Spicy Stir Fry (300g), and Sweet & Crunchy Stir Fry (600g) with a use-by date of up to and including 13 February 2017.

"We're recalling a number of Sainsbury's stir-fry packs containing beansprouts as a precautionary measure because low levels of salmonella were found during routine testing," said a Sainsbury's spokeswoman. "We apologise to customers for any inconvenience."

Sainsbury's has asked all customers who bought the product not to use it, and to return it to a store for a full refund. Point of sale notices will also be displayed in all retail stores that sold the products.

It follows a call by food standards authorities for food and drink companies to review their withdrawal procedures following an increase in the number of global food recalls.

FSA and Food Standards Scotland hope to improve procedures so consumers have "greater protection" from unsafe food, according to the FSA. The research will look into the processes involved in the food retail sector, both inside and outside the UK, for product recalls. Recommendations from the research are expected in the summer.