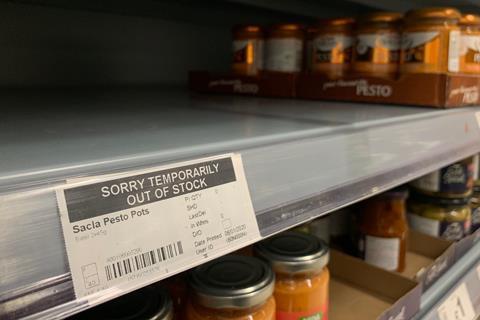 Supermarkets are still facing a shortage of pesto in the wake of a recall by major supplier Saclá last month.
Saclà recalled 19 branded and own-label product lines on 20 December, after discovering cashew nuts from an external supplier used in its recipes could have become contaminated with peanuts.
Saclá said it had launched an "in-depth investigation" and warned shoppers with peanut allergies against consuming any of the products concerned.
Yet more than two weeks since the recall, many of the ubiquitous supplier's SKUs – barring those not affected by the recall – are still missing from the shelves of Asda, Sainsbury's and Waitrose stores.
In Asda and Tesco, all but one Saclá SKU have disappeared from shelves, Edge by Ascential data shows. Both do still have own-label pesto lines available, while Tesco is also selling Fillipo Berio pesto [52 w/e 7 January 2020].
In Waitrose, whose own-label pesto was also involved in the recall, some Saclá products are still showing online.
However, in its Whetstone, London store (pictured below), only jars of Saclà fiery chilli pesto, the retailer's own-label roasted pepper & almond pesto and artichoke pesto, and Belazu's Truffle & Artichoke Pesto could be found.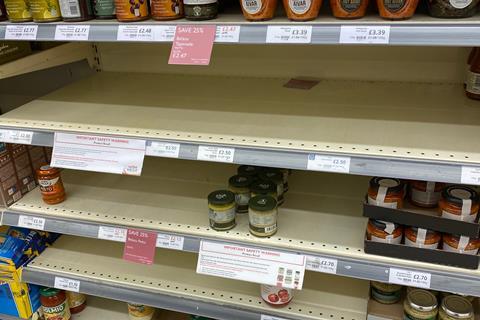 Pesto stocks were slightly better in Sainsbury's, Edge by Ascential data suggests.
However, at its Crawley Avenue, West Sussex, store (below), only jars of Saclà fiery chilli pesto and the retailer's roasted red pepper, sun-dried tomato and Taste the Difference pesto genovese could be found.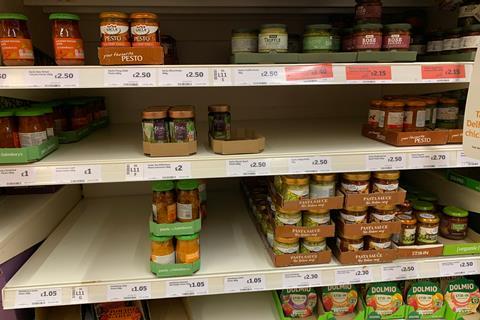 Saclà is the UK's biggest pesto brand and its seventh-largest cooking sauces brand, with value sales of its branded products alone hitting £23.7m last year [Nielsen 52 w/e 7 September 2019].
A spokesman for the brand told The Grocer: "As we have made clear, customer health and safety is our number one priority.
"That is why we took the decision to recall every batch of every implicated pesto product as soon as we were made aware that some cashew nuts, sourced from an external supplier, may contain traces of peanuts.
"As we continue to investigate this incident, we have been working hard to get our products back on the shelves, with updated labelling making clear that our pesto may contain traces of peanuts."
Its pesto products would begin returning to shelves "within the next week or two", he said.