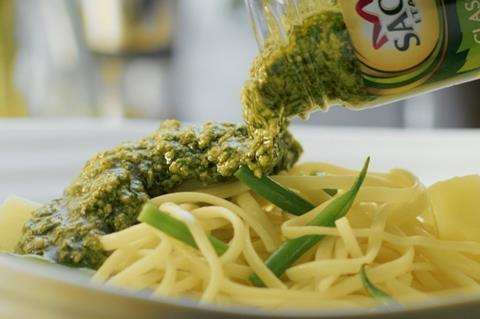 Saclà has recalled a swathe of its branded and own-label pesto products amid fears they may contain peanuts.
The FSA has urged shoppers to return products, including Waitrose and Aldi own-label lines, as they may pose a serious health risk to peanut allergy sufferers. The brand and retailers have issued point-of-sale notices.
It is feared that cashew nuts used in the recipes, which were delivered by an external supplier, could have become contaminated with traces of peanuts.
"The health, safety and welfare of our customers is our number one priority," said a Saclà spokesman.
"Cashew nuts are an integral part of our pesto recipe, and so we therefore contacted all retailers, to ask them to immediately withdraw our pesto products from the shelves.
"Anyone who suffers from a peanut allergy should not consume any of these products, and should instead return them to the store where they made the purchase, or contact Saclà directly."
The brand had launched an "in-depth investigation" into the incident, he said, and was working "very closely" with the FSA. "We are extremely sorry that this has happened and we are doing everything we can to resolve the situation as quickly as possible."
The full list of SKUs being recalled is as follows:
Classic Basil Pesto 90g, 190g, 290g, 2x45g pots, 950g
Saclà Sun-Dried Tomato Pesto 190g, 2x45g pots
Saclà Chargrilled Aubergine Pesto 190g
Saclà Truffle Pesto 90g
Saclà 'Nduja Pesto 90g
Saclà Black Olive Pesto 190g
Saclà Vegan Basil Pesto 190g, 950g
Saclà Reduced Fat Basil Pesto 190g
Saclà Reduced Fat Tomato Pesto 190g
Saclà Gift Pack Pesto Trio 3x90g.
Aldi Red Pesto 190g
Aldi Green Pesto 190g
Waitrose Green Basil Pesto 190g
Waitrose Tomato Pesto 190g
Waitrose Chilli Pesto 190g
Waitrose Cavolo Nero Pesto 190g
Waitrose Rocket Pesto 190g
Waitrose Essential Basil Pesto 190g
Waitrose Essential Sun-Dried Tomato Pesto 190g