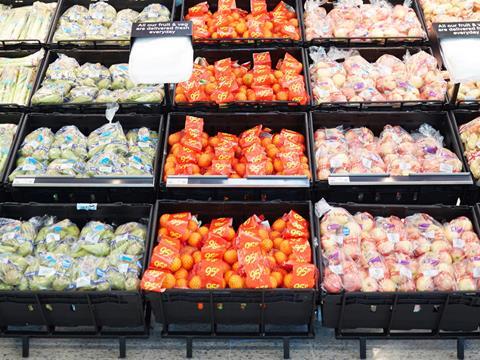 Asda's decision to trial the removal of loose fruit and veg from its fresh aisles has been slammed as a "huge step in the wrong direction" by food waste charity Feedback.

The retailer said this week it was trialling the move on a "small number of fruit and veg lines" across all UK stores, in response to consumer research on buying habits.
Axed products vary by store, but discontinued lines include carrots, apples and potatoes.
Asda said it had also reduced pack sizes of fruit and veg lines in an attempt to reduce household food waste. However, Feedback said it worried the decision would increase unnecessary plastic packaging and food waste.
"When consumers are forced to buy fresh produce in large quantities, waste is more likely to happen," said Martin Bowman, UK gleaning coordinator at Feedback, who cited a recent survey by the Women's Institute which found 84% of people preferred buying fruit and veg loose.

"Based on our conversations with farmers, standardised packaging also aggravates the need for fruit and vegetables to be uniform shapes, sizes and weight," he added.

"If fruit and vegetables are in branded packaging and an order is rejected, then suppliers are often left stranded with produce they cannot resell."

The charity has called on the retailer to publish food waste data and expand their wonky offering, to try to reduce food waste within Asda's supply chains.

The NFU said there were "potentially some positives" to Asda's trial, such as a reduction of food waste in store. However, it warned that the trial could also squeeze British growers.

"While a move to more pre-packed produce has clearly been the direction of travel for some time, it is important that it doesn't lead to increased costs or tightening of specifications for British growers," said NFU horticultural board chairman, Ali Capper.

Asda said the trial was part of a review to find the best way to offer consumers a "great range" of fresh produce. "After analysing customer buying habits we decided to trial removing some loose produce items from our stores where our research showed customers preferred buying in packs," said a spokeswoman for Asda. "Our plan was to listen to customer feedback on this trial before making any permanent changes.

"We also understand the importance of reducing household food waste, which is why we have introduced reduced pack sizes as part of this trial that more accurately reflect the quantities of products our consumers want to buy."