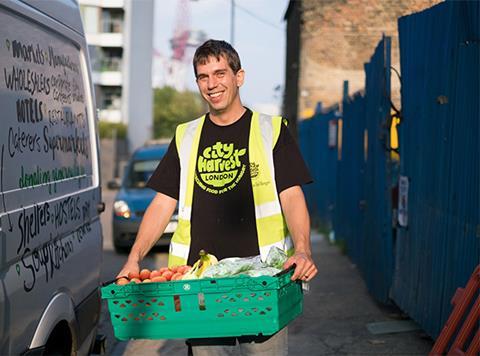 We'd get five times that from one of the large supermarkets." Laura Winningham, CEO of charity City Harvest, is pointing to a trolley overflowing with artisan rolls, gourmet carrot cakes, pastries and fresh veg being wheeled toward us at the Whole Foods Market flagship store on Kensington High Street.

Bags full of posh focaccia so heavy we can hardly lift them are passed to driver Jason as he packs crates into a van already loaded with chicken from Nando's, snacks from Graze and sandwiches from a Tesco Express.

We're halfway through a daily run for the charity, which rescues wasted food from London stores and drops it off at nearby charities or non-profits, passing through Fulham, Hammersmith and Kensington via five grocers, three hostels and two soup kitchens.

To date the team has redistributed 735 tonnes this way, enough to create 1.7 million meals for vulnerable people. In the past 12 months they've more than doubled capacity too, with seven vans now travelling across London each day and a new depot opening in April 2017 to store an increasing volume of surplus food.

Winningham co-founded the charity with her husband and two friends four years ago, inspired by the US-based City Harvest she'd watched driving 18-wheelers in her native New York, picking up 50 tonnes-plus of surplus each day. "I figured London can't be that different in its need for this type of thing," she says. "So I just did it, knowing nothing about food, or vans or really anything. But it's surprising what you can learn."

From "going around and popping their head in" a few local stores with one loaned van, City Harvest now works with almost every major supermarket chain in the city, as well as picking up leftovers from corporate canteens, events held at the likes of Olympia, film sets and defunct brands. Unlike FareShare, which has huge volumes of surplus delivered from distribution depots and manufacturers, City Harvest focuses on that "last mile" between the store and charity, working with FareShare to ensure surplus is picked up from many smaller stores signed up to Tesco's Food Cloud system.

And it's put to good use. Every morsel collected by City Harvest's drivers (all of whom are paid) is either handed direct to charities, stored in its new Acton depot or, in the tiny number of cases where it goes out of date, handed to a Shropshire farmer for pigfeed.
Gallery: City Harvest London


"It really does help us," says Michael Angus, manager for the Barons Court Project, a day centre for homeless and mentally ill people, as we hand over bread and vegetables for its Hammersmith kitchen. "I reckon we've saved on average £2k-3k per year through the donations we get. For us that's a significant amount."

Ten minutes away, chef Andrew Calvocoressi is whipping up turkey hotpot, pork meatballs and egg drop soup - all made with the donated surplus food - at homeless charity The Upper Room. "I use everything," he says. "I've been cooking for 40 years and I don't think I've ever cooked so well because the produce is so good, and that's half the battle."

But for Winningham there is still so much more surplus to access. "It's funny. When we started we thought we'd have unlimited food and we wouldn't have enough people to bring it to. Now we need more food."

As well as flicking through The Grocer each week to find new London startups with surplus to spare, Winningham believes building awareness even further among food companies will be crucial to securing more food. That means smoothing out the grass-roots process of picking up surplus. Too often staff turnover means relationships between drivers and store staff are lost (and with it a load of available surplus) while a lack of clear process mean drivers are sometimes presented with rubbish bags stuffed with unsorted surplus and rubbish. "Redistribution has to be part of the smooth operation of the store," says Winningham. "Once it becomes the fabric of the business it'll run as smoothly as the business. The CEO needs to set a process and evaluate cost, time and sustainability."

It's all still a steep learning curve, she admits. "We're four years in but that's still a very young organisation." One with plenty more scope to grow. "As long as there is demand we should grow until all those people have as much food as they need." And with that, we're on to our next drop-off.
Sign our petition

We want food to be eaten - not end up in the bin. Join our campaign and help us lobby government to take action on food waste: