Wrap's CEO knows it takes a lot more than facts and figures to convince both business and shoppers to change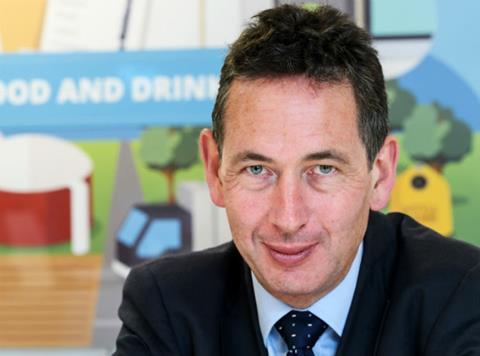 Marcus Gover has a head for figures. From £13.2bn worth of food chucked in the bin by Brits, to 600,000 tonnes left to wilt past expiry dates, to 19 million tonnes of carbon emissions belched out by rotting surplus, Wrap's CEO reels them off with barely a glance down at the doorstep folder of data he's been handed during our meeting at its Banbury HQ.

The only time he flicks through is to show me a photo of a fillet steak. "This was bought from a supermarket. It costs £7.50, that's £33 per kg or £33,000 per tonne, so it's very, very valuable. Plus the carbon impact is huge. To produce that bit of meat is 6kg of Co2, so you've got to drive 60km in a car to produce the same carbon as that bit of steak. The packaging on it weighs 25g, costs 4p and its Co2 is 75g."
Snapshot
Age : 53
Family : Three daughters - 15, 20 and 22.
What did you do before joining Wrap? I studied chemical engineering at University, doing a PhD in combustion. I then ran a field trial on alternative transport in the 1990s, ran a water treatment company and then worked for a company producing a concept for a mobile wood pellet plant.
Since you joined Wrap do you waste less food? Well, I'm very, very aware of it obviously. I love my food so I tend to eat everything.
What's your top tip for wasting less? Leftovers are delicious ready meals. When something is left over it goes in a pot and that's a meal.
What's been the highlight in your year as CEO? Courtauld 2025 and this turndown in consumer food waste. I'm also proud to be one of the Champions 12.3.
Any hobbies? I love sailing - a great escape.
In other words, chucking out that bit of steak is downright criminal. Hence, in its third Courtauld agreement, back in 2012, Wrap decided to shift its focus from streamlining cardboard sleeves and lightweighting glass bottles to the food inside. "If you're thinking about impact then the impact is in the food; the packaging is principally there to sell and protect it," explains Gover. "We're wasting 7.3 million tonnes of food as citizens - you and me as well - and 60% of that we could've eaten. We could be saving a fortune for the economy and make a huge difference to Co2 emissions."
But much as the PhD qualified chemical engineer loves wielding his figures to make a point, they haven't always gone his way.

In January, only months into the top job, Gover found himself face to face with the Today programme's prickliest presenter John Humphrys, forced to defend new figures that showed household waste had risen by 300,000 tonnes from 2012 to 2015, missing Wrap's reduction target of 5% by a mile. "That was quite hard but it was a turning point. It was a moment of failure but a turning point for me in the sense I thought 'we're going to do something about that'.

"Awareness is high, but it showed it's not coming through to action and so awareness isn't enough. This is our biggest challenge: how do we turn static consumer food waste numbers down again? Because if we're going to reach the Courtauld 2025 target (of a 20% reduction in all UK food waste) that's where a lot of it will have to come from."

Going back to basics and trawling through nearly two decades of food waste data, the CEO is "now ready to say this is the plan" unveiling this month a new ultra-targeted approach that will centre on the four most wasted foods (bread, potatoes, milk and meals) and the most wasteful age group (millennials) with simple in-store signs and product labels to discourage them from buying food they'll only throw away anyway. "It could be labels that say how many cups of tea from one pint of milk - things that might trigger them to think. It's not to discourage, it's to help people plan."

It won't do it alone. "Wrap isn't going to come up with all of these ideas, we'll try more to be a catalyst. We'll say we know this is a place where food waste is coming from, what are you going to do? And try and bring in retailers in particular, but others as well. It's about uniting in the food waste fight."
Key allies
So, as with Courtauld 2025, it'll say to supermarkets "how about selling less food?" A tough pitch? "They're up for that. We should acknowledge what they're doing and in terms of our next push to bring down consumer food waste, supermarkets will be key allies in that."

Supermarkets aren't the problem for Gover. Almost all retailers (or at least those behind 94% of grocery sales) are signed up to the latest Courtauld 2025 commitment, making them the biggest force behind those companies that pledged to double redistribution by 2020 in January too, something that wasn't pushed for by Wrap but was a case of the "businesses themselves saying they're going to show leadership".

Instead it's suppliers that Gover and his team are yet to get through to. Only 18 have signed up to the latest Courtauld, of 130 companies in total. Why aren't they interested? Do they still think they don't waste food? "Just like everyone else actually," smiles Gover. "That's the problem. Sixty per cent of people think they don't waste food. But when you measure, you find they do.
"There are some big manufacturers that are part of Courtauld but there are also a lot of smaller companies out there that don't really understand yet the true cost of waste."

To educate them, Wrap launched a new 'Your business is food' campaign in May, working with trade associations such as the FDF to reach SMEs that previously missed out on those all-important figures. "There's a great case there, we've just got to get them to understand what's in it for them."
"Awareness is high but it isn't enough. This is our biggest challenge: how do we turn static consumer food waste numbers down again?"
A new binding national food waste target - as recommended by an Efra select committee report in April - isn't necessary to hook in those lagging behind, he believes. "I would say Courtauld is already the national food waste target. A target in a Wrap agreement means a target. If somebody isn't doing what they're meant to do, we'd throw them out of Courtauld."

Have you? "It hasn't happened yet, though we've had to have one or two conversations about stepping up. We're serious about it, we wouldn't let someone be a free rider as that would detract from those really taking action.

"I stood up in January and said we hadn't hit the target of Courtauld 3. A lot of people would try to get round it but we report, check and say how we've done."

The fact remains that the commitment is voluntary though, a real bugbear for some. "Yes, Wrap is all about voluntary. We think by working with business and bringing business together you can go further than regulation. I'm not sure if government would have dared regulate the achievement in packaging we did voluntarily. I think business can do more than government here really."

Another Efra recommendation Gover isn't too fussed about is the calls for public food waste reporting that Tesco have championed, and which they convinced 24 of their biggest suppliers to do too only last week. "I think it's great what Tesco has done, it shows leadership, but I don't think we should say everyone else has to do it. I think it's for businesses to show leadership where they can.
"What I need is for companies to measure and talk to us about what they're doing. They're all doing that, so I don't need them to report publicly to achieve what I'm working for."

But does he have the cash to achieve what he's working for? Funding from government fell by just under £5m in 2015/16 to £14.8m, a drop of 24%. That decreased to £12m in 2016/17 and will be cut further to £9m-10m the year after. A 50% reduction in four years.
More money
"Are you asking if I want more money?" laughs Gover. "If you look at the world we're in, everyone is struggling for funding everywhere, everyone is very tight. I think the money we're getting from government is probably the right amount. It does limit what I can do, I could do more with more money, but I don't think it's realistic to say we should have more.

"If they cut it a lot more that would cause problems, we are at about the minimum but we're also changing the model so businesses are contributing to Courtauld now."

All companies signed up to the commitment paid a joining fee this time around. "It would've put some companies off, certainly. No one ever wants to pay money for anything, do they?" But the 130 signatories "all agreed to it" though the size of the fee "depends on the size of the organisation".

"It allows us to set up Courtauld and run the basic agreement" with potential for more contributions from industry for spin-off, supplementary projects that arise.

On this and all things, Gover is always careful and considered in his replies. He's almost never critical, never controversial in his views. Doesn't he ever feel like letting loose at all those laggards that stand in the way of his goal? There's a brief pause.

"You get different types of organisations. There are some who really like to be a thorn in the side, they have a place, and they can be effective. There are a few constantly keeping a check on retailers, for instance. But our style is more about working with and helping people to solve the problem. We're not there to criticise. Behind closed doors we might be saying this is really a problem but we'll also say we can help you with that. We want to be the people with the solutions, rather than the people telling you the problems."