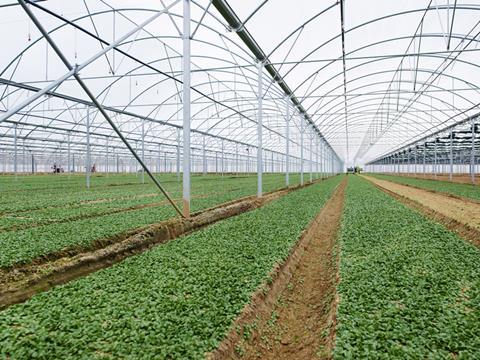 Florette has begun constructing the second stage of its polytunnel growing operation near Colchester in a bid to reduce imports and become a year-round UK grower.
Once completed, the polytunnel complex will measure 20 hectares, and there are plans to further extend to 40 hectares over the coming three years in a project that could eventually cost almost £5m.
The Angflor complex is being jointly developed by Florette and salad grower Jepco Marketing. It cultivates babyleaf salad varieties exclusively for Florette, including lambs lettuce, rocket, ruby chard and Florette PepperCress.
The expanded site had the potential to save up to 36,000 lorry miles each year, said Angflor managing director Patrick Bastow, and would help provide a fresher and higher-quality leaf by reducing the time from field to supermarket shelf.
"Due to the UK climate, babyleaf salad can usually only be grown during the summer months, so this development heralds significant changes for the UK grower industry," he said.
"Last year, Florette identified that climate change was the key challenge facing UK salad growers, with changeable weather patterns and rainfall levels impacting their businesses. The development of Angflor therefore provides confidence to growers that there is a bright and sustainable future ahead for horticulture in this country."
"The vision that drives our business forward is to be the hallmark of the freshest and finest quality products, so it is vital that our grower network is as efficient and sustainable as possible to ensure we can deliver this 100% of the time," added Florette UK and Ireland managing director Neil Sanderson.