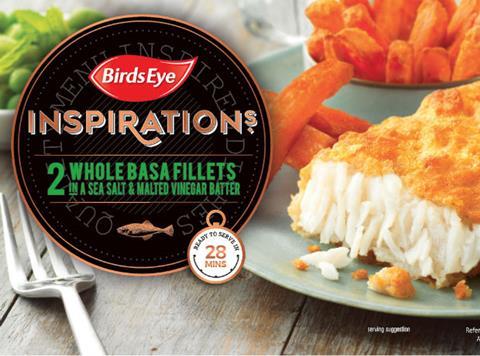 Birds Eye has revamped its Inspirations frozen range with new packaging, and is set to support it with a year-long multimillion-pound marketing push.

The frozen food giant has also expanded the range with the UK's first Aquaculture Stewardship Council-certified basa fillet, in salt & vinegar batter, and a cod fillet in golden batter (both rsp: £4.50/346g). Both went on sale in Sainsbury's, Asda, Morrisons, and Ocado this month.

Birds Eye said the multichannel marketing push would include TV and digital activity running from November 2017 to December 2018 - its longest continuous ad campaign to date. It will target the 45+ market and also include a yet to be announced TV show sponsorship.

"For 20 years Birds Eye has pioneered the responsible sourcing of fish, co-founding the Marine Stewardship Council programme alongside the WWF and working with suppliers and producers to provide responsibly sourced fish that can be traced back to its origin," said Steve Challouma, UK marketing director at Birds Eye.

"Receiving the stamp of approval from the ASC for our basa launch reinforces the Birds Eye promise that we will continue to source more sustainably, helping to safeguard fish supplies for generations to come," he added.

"We hope to inspire other brands in the category to support real environmental change and help to transform the UK's fish market. If all fish brands follow responsible farming methods, we can help to reduce pollution, protect the workforce and decrease the disruption of local ecosystems."

Birds Eye suffered a heavy decline in sales for the year to 31 December 2016, according to accounts filed earlier this month, with revenues falling £16.2m to £399.1m.

Cumulative losses for the past four years now stand at £68m, a 14.6% decrease between 2013 and 2016. However, Birds Eye MD Wayne Hudson has said the supplier has established "a bold new strategy" aimed at reigniting growth for the brand and the frozen category in the fourth quarter.

"Significant investment in quality across our portfolio, a move away from a pan-European marketing strategy to focus on our iconic ranges with increased media spend, improved pack designs and the return of The Captain have all contributed to a significant turnaround in our sales performance, and that of the frozen food category," said Hudson at the start of October.